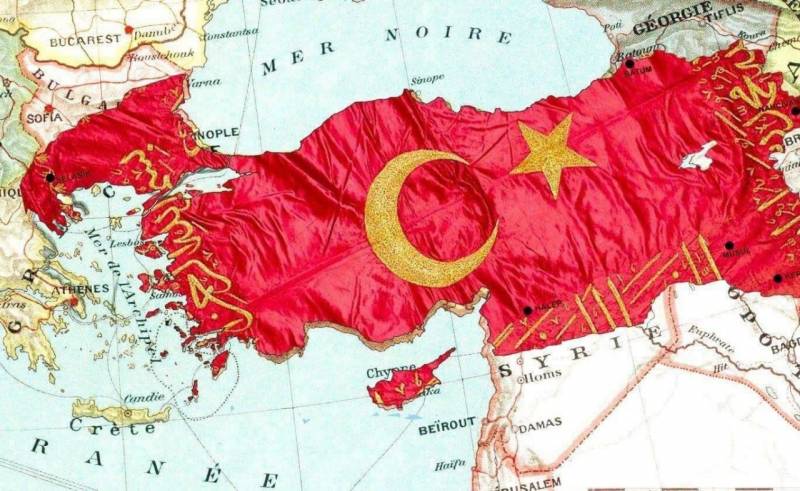 Turkish politician Metin Kulunk, who is similar to Erdogan in geopolitical views, showed on the Internet a map of "Turkey of the Future" - he placed there parts of Bulgaria and Greece, Georgia, Iraq, Syria, Armenia and Cyprus. This is reported by the Bulgarian resource "Fakti".
Kulyunk not only posted the "map of Turkey" on Instagram and Twitter - he made a real appeal to the Greeks:
I appeal to the people of Greece to remember how we lived together for four centuries in peace and harmony, before we tasted the bitter taste of imperialism. Ask your historians and they will tell you - we lived like brothers. Was the taste of Turkish justice bad?
- exclaims Erdogan's ideologist.
In his graphic materials, this fan of Pan-Turkism actually calls for a redrawing of the world map and for the beginning of Turkish expansion in order to seize the territories of independent states
- note the correspondents of the Greek newspaper "O Chronos".
The "map" reflects the territories of the famous "National Oath" of a century ago, which has turned into a dogma of foreign policy aspirations of modern Turkish "hawks".
This exacerbation of relations between Ankara and Athens occurs against the background of Greece's attempts to expand its territorial waters in the Ionian Sea from 6 to 12 nautical miles, about which Italy and Albania were previously informed. The Greek territorial waters south of Crete will expand by the same amount in the zones defined by the recent agreement between Greece and Egypt.