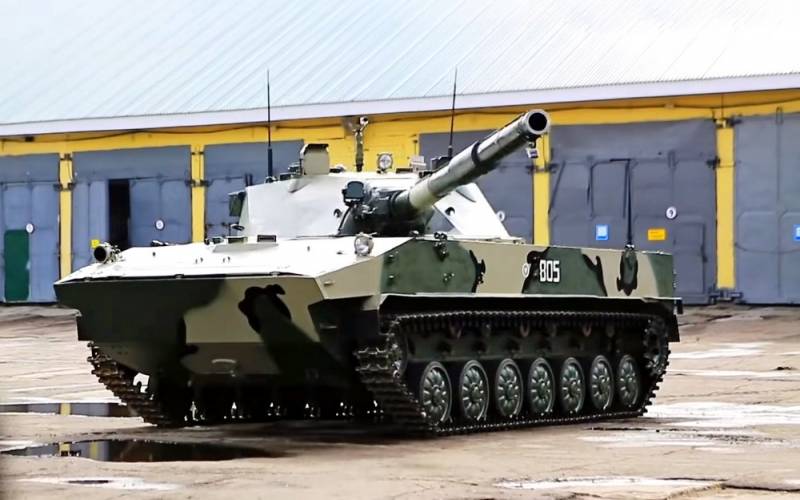 On the eve, state tests of the Sprut-SDM1 light amphibious tank started, as reported by the press service of the Rostec state corporation. The car, which is planned to arm the landing, has been waited for a long time. And that's why.
The fact is that the main advantage of the airborne troops is the combination of high mobility and first strike force. For that very attack to be really powerful, you need heavy weapons, for example, tanks or self-propelled guns. However, the former are not intended to be dropped. In the case of self-propelled artillery installations, you have to choose: deliver an assault company or one self-propelled gun to the landing point.
Trying to solve the above problem, back in 1985, domestic designers began developing a light vehicle that has the dimensions and weight of an infantry fighting vehicle, but has the firepower of a full-fledged tank. This is how the Sprut-SD project was born, which assumed the creation of a whole family of combat vehicles in various modifications. However, only the modern version has become successful.
"Sprut-SDM1" is a light (up to 18 tons) vehicle with a 125-mm gun, suitable for all types of landing, including parachute. Such a "hybrid" with its small dimensions (up to 76 units can fit in the Il-4) is capable of providing the power of the T-80 and T-90 tanks.
State tests "Sprut-SDM1" should be completed in the fall of 2021. And what about the West?
NATO is also hard at work on the development of light amphibious tanks, but to no avail. The Swedish CV90120-T weighs 28 tons and is not intended for landing. The Polish LC-08 Anders is at the prototype stage, but it is unlikely that anything will come of it, since the weight of the car exceeds 30 tons.
The American M-8 "Bufort", the closest to our "Octopus", has been developed since the 90s. It weighs 17,5 tons, but has only bulletproof protection. It is planned to use it with a set of mounted active armor of the second or third level, but this will increase the weight of the vehicle to 23 tons. However, in this case, we are only talking about testing the concept and it is still far from its application.