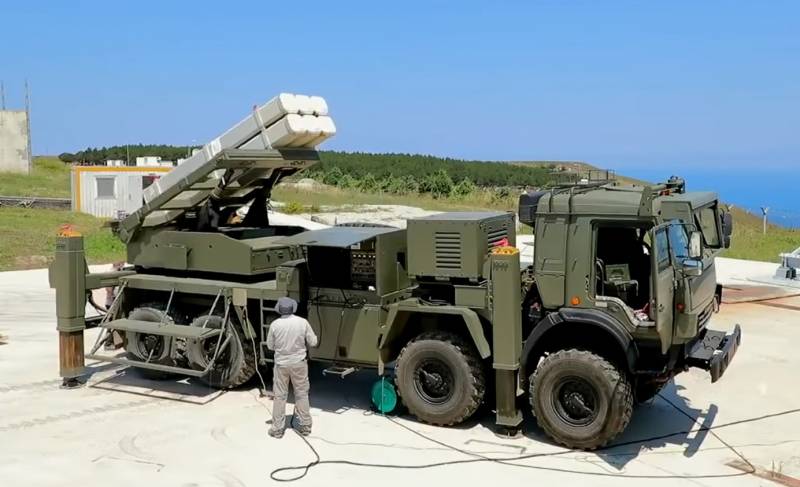 The Turkish company Roketsan tested a TRLG-230 laser-guided missile from a Bayraktar TB2 unmanned aerial vehicle at a distance of 70 km. KAMAZ-63501 was chosen as the chassis.
Azerbaijan may become the customer of the Turkish TRLG-230 complex. Multiple launch rocket systems based on KAMAZ are already in the Azerbaijani troops - they use Turkish missiles of 122 mm, 300 mm, etc.
Meanwhile, Moscow signed an agreement with Ankara for the supply of the second set of S-400 air defense systems. The parties are now discussing the financial details of the implementation of the arms deliveries. According to the General Director of Rosoboronexport Alexander Mikheev at the Army-2020 forum, the contract has been signed, and the promptness of its implementation will depend on the fulfillment of its financial obligations by the Turkish side.
The contract for the supply of the S-400 was signed between the Russian Federation and the Republic of Turkey back in 2017, in 2019 Turkey received the first sets of weapons.
According to Selcuk olakoglu, adviser to the Center for Strategic Studies of the Turkish Ministry of Foreign Affairs, the biggest obstacle to cooperation between the two countries in the military sphere is incompatibility.
of technologies
RF and NATO systems and the lack of permission for their joint use. According to the expert, in the context of possible sanctions by Washington against Ankara for the purchase of the S-400, Turkey is unlikely to take part in the project to build fighters from the Russian Federation. But in case of aggravation of relations between Turkey and the West, the state of affairs may change, and military-trade and industrial ties between the Russian Federation and Turkey will strengthen.