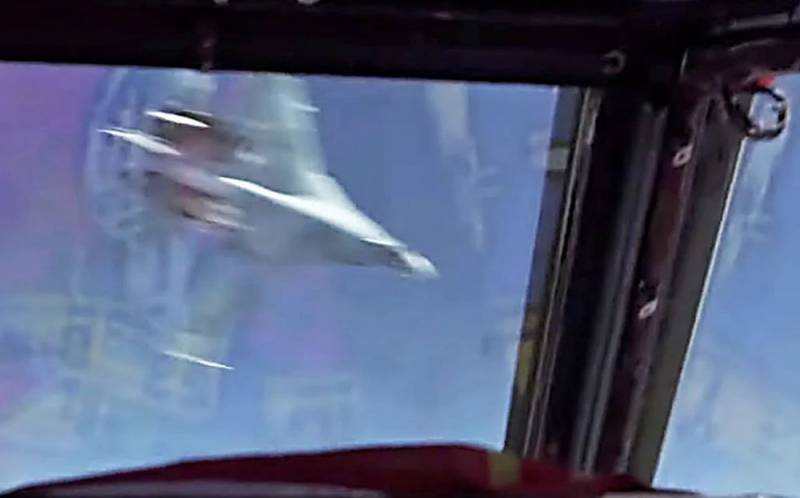 The Pentagon has published a horrifying video of a Russian Su-27 flying at high speed right in front of a B-52 Stratofortress bomber, writes the American online edition The Drive.
This disturbing video is the latest in a worrying escalation of Cold War-style posturing that has been observed recently between the US and Russia. The incident took place on August 28, 2020, when the US Air Force sent six of its B-52s to show strength and solidarity with NATO members by flying over NATO airspace. The mission included a flyover over Eastern Europe and the tense Black Sea region.
At 11:19 a.m., two Russian Su-27 fighters intercepted a US Air Force B-52 bomber that was flying over the neutral waters of the Black Sea. At the same time, the Russians flew unsafe and unprofessional. They flew several times within 100 feet of the bow of the B-52 at the same altitude and afterburner, causing turbulence and limiting the B-52's ability to maneuver.
- the Pentagon said in a statement.
The B-52 operated routinely in international airspace, enjoying freedom of navigation as the United States Air Force operates in accordance with internationally recognized safety standards established by the International Civil Aviation Organization's flight rules. At the same time, the Su-27, shown in the video, apparently flew from the Crimea, where the Russians have an air base.
In recent months, B-52s and B-1Bs have been active in the area, practicing cruise missile attacks, which Moscow clearly did not like. We often hear about "dangerous interceptions", but such videos rarely appear on the web. This time, the B-52 crew prepared and waited for the Russians with a video camera.
The Su-27 maneuver is sometimes referred to as a "headbutt" and can potentially be extremely dangerous depending on how it is performed. The footage shows the first Su-27 approaching the left wing of the B-52, and then pulling forward, up and crossing the path in front of and above the bomber. A second Su-27 then performs a similar maneuver, but right in front of the B-52's nose at incredibly close range. To call this maneuver dangerous or unprofessional is to say nothing.