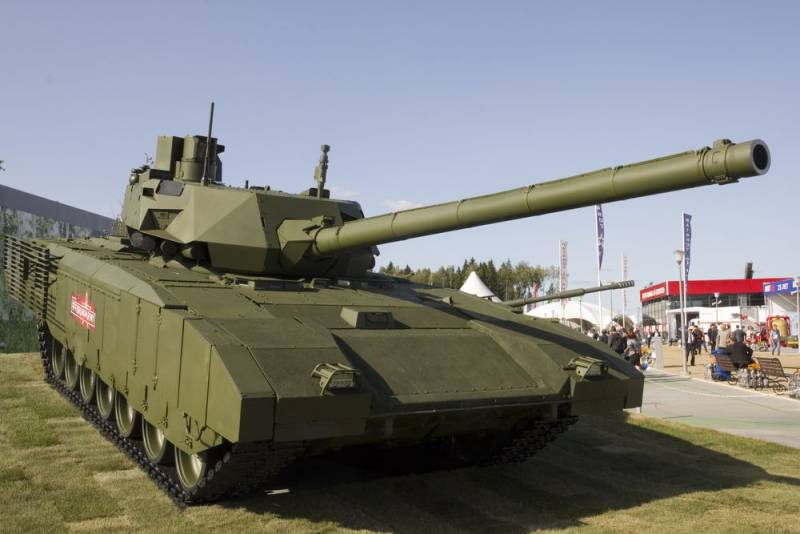 Serial production of MBT T-14 "Armata" has already begun and in the next five years the Russian army will receive a large number of such tanks. At the same time, the development of new
of technologies
and design improvements continue at a rapid pace. Moreover, a revolutionary program for the modernization of existing tanks has already been proposed, writes Military Watch.
Experts from the 38th Research and Testing Institute of Armored Vehicles and Weapons suggest integrating a 152-mm cannon onto a heavy tank. This would significantly increase the firepower of the MBT, replacing the current 125-mm cannon. In the past, this question was raised more than once, the Russians even had the T-95 program, but the designs of lighter tanks could not withstand the loads.
The Armata's size allows it to carry a large gun, and if the integration is successful, the Russian tank will have a significant advantage over all existing NATO tanks that use the 120mm cannon.
The uninhabited T-14 turret today is completely unique and is one of the main features that distinguishes it from the third generation MBT. The Armata is undoubtedly one of the three existing fourth-generation tanks on the planet (together with the Korean K2 and Japanese Type 10).
Specialists of the said institute also proposed to modernize the turret for the integration of missiles based on the principle of "fire, forget and fire again", as well as install an airborne reconnaissance and relay drone and expand the list of ammunition due to supersonic sub-caliber armor-piercing shells. In addition, it was proposed to equip the T-14 with a system for automatic detection and destruction of targets in probable areas of convergence of tanks at a distance of up to 1 km, as well as laser equipment for disabling incoming anti-tank guided missiles and a system for remote neutralization of anti-tank mines.
Additionally, they want to equip the T-14 with a new, more efficient 1500 hp engine, dual manual control of both weapons and power unit. It has even been proposed to integrate a toilet for long-range missions, protection against laser, electromagnetic and microwave weapons, as well as "transparent armor" capable of automatically detecting targets at a distance of up to 6 km.