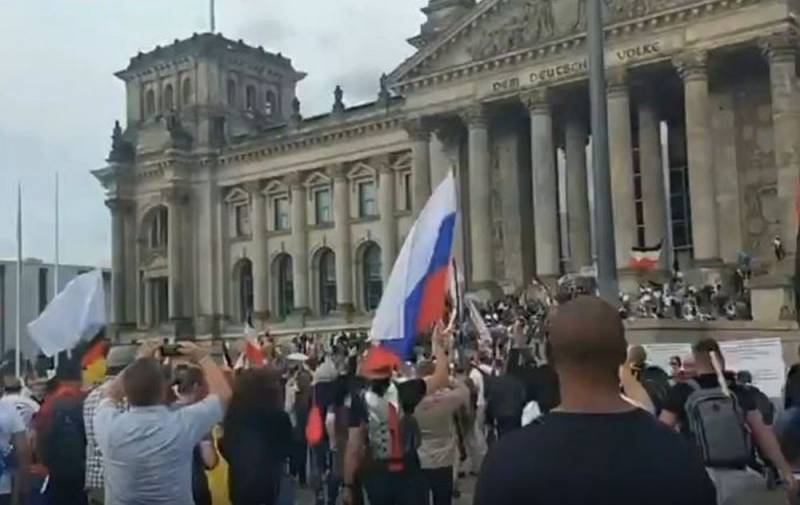 On August 29, 2020, in Berlin, a rally of thousands of Covid dissidents took place, protesting against the tightening of quarantine restrictions planned by the federal government. The capital of Germany has not seen such a mass demonstration for fifteen years.
Tens of thousands of Germans took to the streets of the capital, holding various banners, posters and flags. The video clearly shows the flags of Germany, Russia, the United States, the LGBT community, the European Union, various other countries, organizations and parties. But most of all were the flags of the German Empire, they prevailed.
The protesters wanted the country's authorities to finally hear them. Therefore, at some point, they even decided to go to storm the Bundestag, the German parliament. The police had to use tear gas and special equipment, detaining about 300 people. Before that, the Berlin Administrative Court banned the demonstration. According to law enforcement officers, more than 38 thousand people took part in the protest action.
Russian journalist Dmitry Smirnov was in the thick of the action. He started asking various questions to the people around him. For example, why are they holding Russian tricolors in their hands and chanting "Putin! Putin! "
I asked why are they with Russian flags? It's simple: because Putin can put pressure on Trump
- the journalist said the words of the protesters.
At the same time, it is not specified why Russian leader Vladimir Putin should put pressure on his American counterpart Donald Trump. However, the shouts of "the government to resign" were well heard.
Note that German Chancellor Angela Merkel is one of the supporters of the completion of the construction of the Nord Stream-2 gas pipeline and its commissioning. Therefore, the above action may be provocative and aimed at complicating relations between Moscow and Berlin.