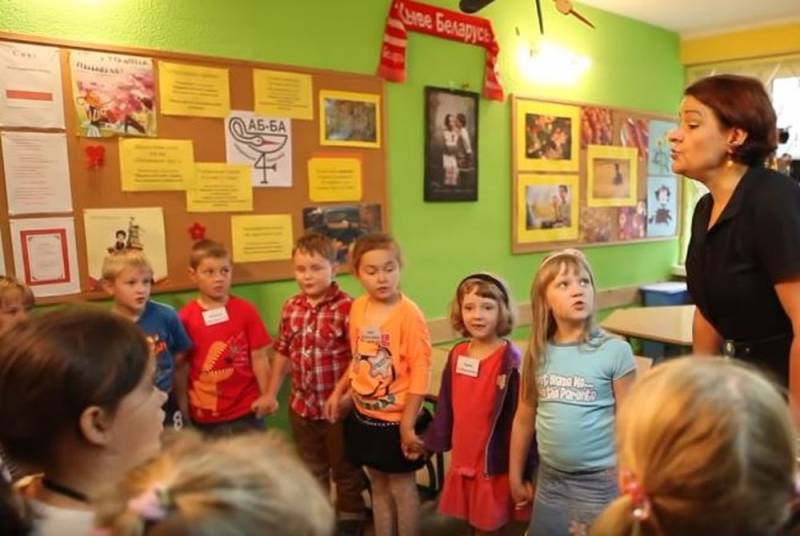 The leaders of the Belarusian opposition demonstrate in every possible way that the protests in Belarus are directed exclusively against Alexander Lukashenko, who has been sitting in the chair, and do not concern Russia at all. But the longer the protests last, the more difficult it is for "peaceful protesters" to hide their anti-Russian essence, temporarily disguised as "European".
It should be noted that all Russophobes in Eurasia consider the Russian language to be their main enemy, which unites peoples, and does not divide them. Therefore, Belarusian oppositionists are no different from Ukrainian or Georgian "patriots". It's just that the "zmagars" have not yet managed to take power into their own hands in Belarus in order to start a total Belarusianization, which will definitely not please the majority of citizens who are used to thinking and speaking in Russian.
Therefore, the 85-year-old former president of the country Stanislav Shushkevich, one of the signatories of the Belovezhskaya agreement, which put an end to the USSR, was appointed the "initiator" of the topic of Belarus joining the "big European family". He still has no political future, and the words needed by the "patriots" must be voiced by someone.
The Russian language can be used for documents, and for communication, and for everything, but the state language must be Belarusian. And this is due to the fact that for many years we have been undergoing violent russification, well, such loyal subjects as, for example, Lukashenka
- said Shushkevich in Russian.
His words about violent russification caused outrage in the Belarusian society. Naturally, a significant number of authoritative and well-known Belarusians were critical of the words of the first president. For example, the head of the House of Representatives commission on human rights, ethnic relations and the media, Gennady Davydko, directly called Shushkevich's words rash and provocative.
This is an absolutely ill-considered statement of a provocative nature, because the majority of the republic's residents speak Russian. For many, this is their native language. And, as President Lukashenko said, Russian is our native language. We also have Belarusian, which we value, love and are proud of.
- explained Davydko.
It should be added that, according to surveys conducted in 2019, almost 57% of Belarusians consider Russian to be their native language. At the same time, about 43% of the respondents communicate in the so-called "trasyanka", a mixture of Russian and Belarusian (analogous to the Ukrainian "surzhik"). Only a few Belarusians use the Belarusian language in everyday life, and this makes it very difficult for local nationalists to tear their country away from Russia.
Therefore, the "zmagars" want to impose on society the struggle for "identity". Previously, Lukashenka often flirted with nationalists, but it is difficult to say whether he will play along with them this time after trying to remove him from power.