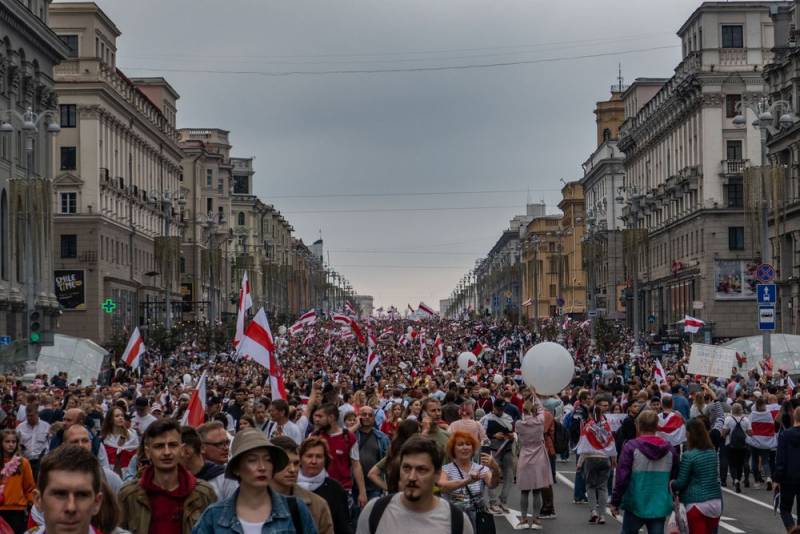 Russian leader Vladimir Putin's statement on
the creation
power reserve in case of destabilization of the situation in neighboring Belarus is connected with the next march of "peaceful protesters" in Minsk being prepared for August 30, 2020. This was announced by political scientist Marat Bashirov in the author's information and analytical Telegram channel "Politjoystick".
President Putin's words about the MTR of the RF Armed Forces are connected with the fact that a decisive battle of Polish saboteurs in Minsk and a military provocation on the border with Brest are planned this weekend
- wrote Bashirov.
In his opinion, Moscow has notified the Western "partners" that it perfectly sees where they are trying to lead the situation in Belarus. At the same time, the Russian authorities seem to say that they remember the May events in Venezuela, when the saboteurs
tried
land on the coast of the country.
In turn, political scientist Vladimir Kornilov, on the air of the Rossiya24 TV channel, warned the pro-Lukashenko Belarusians against complacency, because they are sure that the Maidan is over.
Believe us, who studied in detail the experience of the "color revolutions" in Kiev, nothing went into decline. A new peak is being prepared for Sunday
Said Kornilov.
Note that the Telegram channel NEXTA, operating from Poland, called on all Belarusian oppositionists to gather on the next Sunday on Independence Square in Minsk for an unauthorized rally and bring with them "creative gifts that will need to be presented to Lukashenka, who is celebrating his birthday."
It should be recalled that on the previous Sunday, August 23, 2020, "peaceful protesters" did not dare to storm the residence of the head of state when they saw Lukashenka
outgoing
from a helicopter with a Kalashnikov assault rifle in his hands. Will there be an assault this time, we will soon find out.