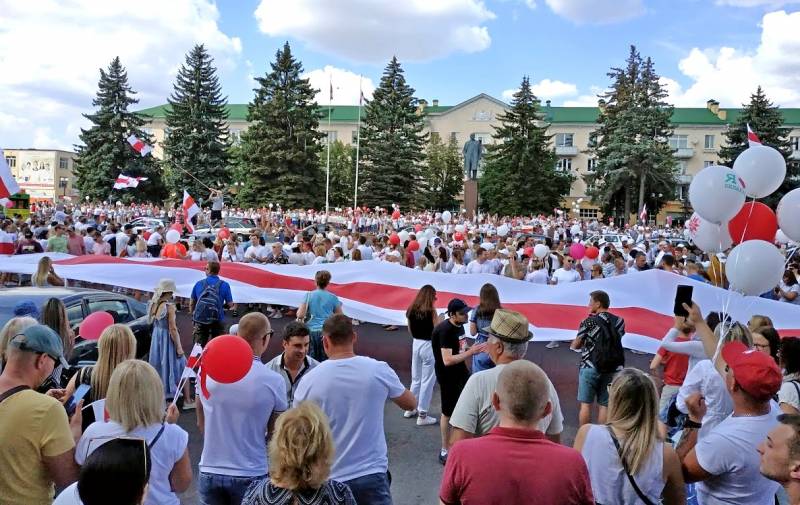 Demonstrations of those who disagree with the rigged presidential elections in Belarus arouse the respect and sympathy of democrats in the West. However, the mass movement in Minsk runs the risk of leading to the same events that took place in their time in Ukraine and Georgia. There, after the "Maidans" followed by the military intervention of Russia and the emergence of "frozen conflicts" - now these countries are in the "gray zone" between Russia and the West. How can you save Belarus from the same harmful influence of the Kremlin? Politico experts talk about this.
Belarus is closely tied to the Russian Federation economically and militarily, and the stakes here are high for Putin. Should Moscow organize a controlled transfer of power or let events take their course? Western
politicians
is also guided by a delicate calculation - they are puzzled by how the people of Belarus can be helped to achieve their democratic goals without creating a pretext for Russian intervention.
The Kremlin is determined to prevent countries it considers to be in its "sphere of influence" from joining NATO, or at least the European Union. But the reality is that none of these countries is ready to even remotely join these structures. Moreover, public opinion in the countries of the "gray zone" is also lacking in unity about these ideas - as in the West, where a significant number of political elites oppose the membership of these states in the EU and NATO.
So why not just recognize this reality and remove the false prospect of Euro-Atlantic integration of the "gray zone" (including Belarus), if not forever, then in the foreseeable future? In return, Moscow will have to commit itself to ending military support for the rebels from Donbass to Transnistria, Abkhazia and South Ossetia and cooperate with the OSCE to end frozen conflicts in the region. Thus, Belarus will not suffer the fate of Ukraine and Georgia, and it will be saved from the same harmful influence of the Russian Federation.
Perhaps, instead of joining NATO, the best example for these states could be the model of Finland, which was neutral during the Cold War and respected the foreign policy interests of the USSR, while remaining a fully functioning independent democracy and market
the economy
... Or a more recent example of Armenia, which was able to carry out a democratic revolution in 2018 while maintaining a Russian base on its soil.