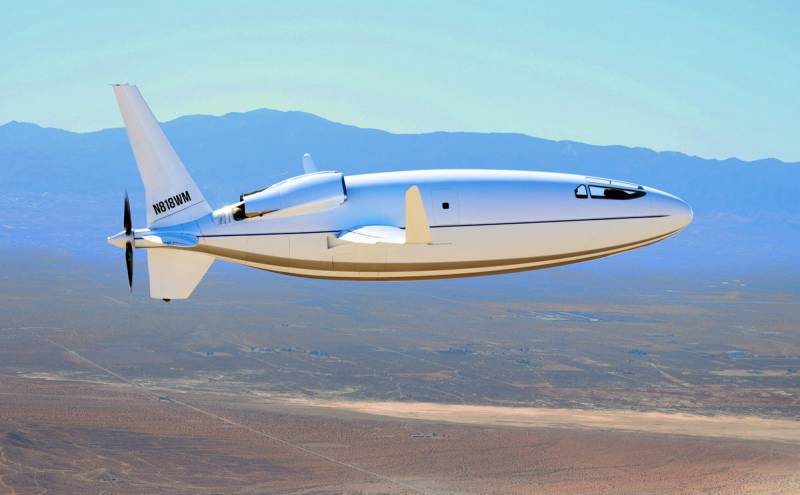 The promising airliner Celera 500L from Otto Aviation is officially presented. The aircraft, nicknamed "bullet plane" due to its unusual fuselage design, has been in development since the early 2010s. However, the lion's share of information about the brainchild of American designers was previously classified, and the few information that surfaced on the network was based mostly on photographs and rare "leaks".
Now the design and technical characteristics of the aircraft have been officially disclosed. It is known that the promising airliner received an ellipsoidal fuselage with a wing with tips installed in the center. In the rear there are two air intakes and a cruciform tail unit, ending with a pusher propeller. According to the developers, such a non-standard design makes the liner extremely economical due to a significant reduction in aerodynamic drag.
The Bullet Plane was equipped with a 12-cylinder RED A03 diesel engine. The unit is located in the aft fuselage and has a takeoff power of over 550 hp. It should be noted that the same power plant is used on the promising Russian reconnaissance and strike drone "Altair".
It is assumed that the Celera 500L will be able to cover a distance of more than 7200 kilometers, developing speeds of up to 740 km / h. At the same time, the developers declare that the cost of one "bullet plane" flight will be about $ 328 per hour, which is more comparable to a regular passenger flight than to business aviation flights.
In addition to the passenger version of the liner, it is planned to build two cargo ones intended for the transportation of class D aviation containers, and one of them, called the Celera 1000L, will receive a fuselage increased by 20%.
As of today, the promising Celera 500L has already completed 31 test flights. By 2023, Otto Aviation plans to receive an FAA certificate, and in another two years to establish mass production of the "bullet aircraft".