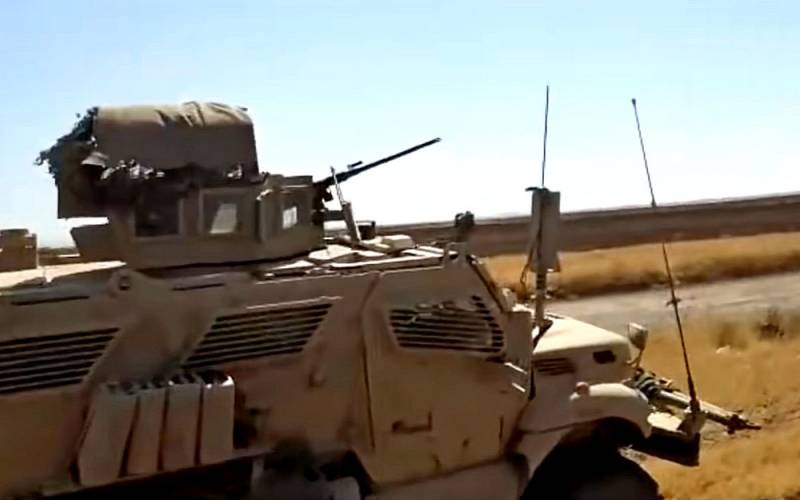 Readers of the British tabloid Daily Mail actively commented
clash
Russian and American armored personnel carriers in Syria. A video of the incident appeared on the web the day before.
To date, users have left more than one and a half thousand comments, some of which are listed below.
When are we going to say "enough" and kick all the crap out of the gas station better known as "Russia"?

- David1171 is indignant.
Russians think outside the box. Probably, they would like retaliation for 100 Russian mercenaries, whom the United States eliminated some time ago.

- noted the user Wayneford (we are talking about 2018, when a group from a Russian PMC came under American shelling in the province of Deir ez-Zor).
Why did these Russian soldiers manage to leave without bullet holes?

- asked sobe13.
The Russians are there at the invitation of the Syrian president. Why do Americans poke their noses into other people's business?

- valenciano is curious.
They will say that it was an accident, and the Russian driver did not understand which side of the road he was going to take. He will take advantage of diplomatic immunity and leave for Russia, and Vladimir (Putin) will apologize for not being able to get him. This is how it worked in the UK, and why shouldn't it in Syria?
- on this comment by user Barry G, some clarification should be given for the Russian-speaking reader. We are obviously talking about an accident involving the wife of an American diplomat, in which a British citizen was killed. Washington hastily transported the culprit to the States, rejecting London's demand to extradite her for trial. Similar cases have occurred in other countries.
A ram from the enemy's side is quite enough to use a weapon in response. Of course, all fighters are well aware that this action can lead to a large-scale war with Russia, therefore, the exercise of restraint is not to start shooting. If this happened at sea, American ships would open fire before being rammed.

- supposes a certain Mallers.
Everything is very simple. Russian troops are legally in Syria at the invitation of the Syrian government. American troops have remained there illegally since the days of Obama, but Trump promised to withdraw them from there in 2016. It's time for him to fulfill his promise

- reminds Julio Severo.
Stop inflammatory rhetoric about Russia, Democrats. The soldiers showed symptoms of "half-concussion". And the title is drawn up as if the Russians had blown them to pieces. At the same time, Russia needs to pay for its actions. Send troops and off you go, Trump 2020!

- Requires Burnedtoastfacedown.
So what's the truth here? It looks like the Americans were just trying to escape. Why was this happening if they were supposedly supposed to be in the area? Where is the American video of the incident? Why would the Russians publish a video if they themselves were in the wrong place? If the invaders were left with a half-concussion from a simple side impact, then how would they even have survived in a real disaster or in a mine explosion?

- SensibleSid is perplexed.