According to the telegram channel "Hunter's Notes", which is engaged in tracking the flights of Russian military aviation, on the night of August 25-26, 2020, a whole "caravan" of heavy military transport aircraft Il-76 flew into Syria. A large group of seven cargo aircraft flew to Syrian Latakia from the Chkalovsky military airfield (Moscow region).
The registration numbers of six aircraft were recorded from the indicated "caravan": RFF8041, RFF8039, RFF8037, RFF8031, RFF8027 and RIF6804. Observers argue that there has been no such activity for a long time.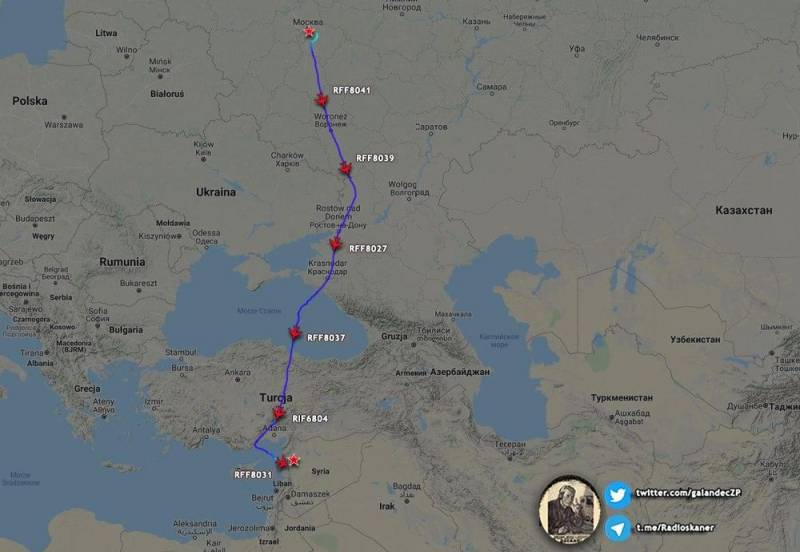 The transfer of additional forces may be associated with the high likelihood of the start of an operation to enforce peace on irreconcilable jihadists in northwestern Syria.
For example, the aforementioned transport workers, with a carrying capacity of up to 60 tons each, could easily have transferred two helicopter flights to Syria, which will certainly come in handy to bring the militants to their senses.
We remind you that
attack
militants on joint Russian-Turkish patrols on the M4 section of the Jisr-al-Shugur - Serakib section do not stop. At the same time, the militants continue to inflict artillery and mortar strikes on settlements adjacent to the southern part of the Idlib de-escalation zone. It's time to put an end to this lawlessness and bring the long-awaited peace to Syrian soil.