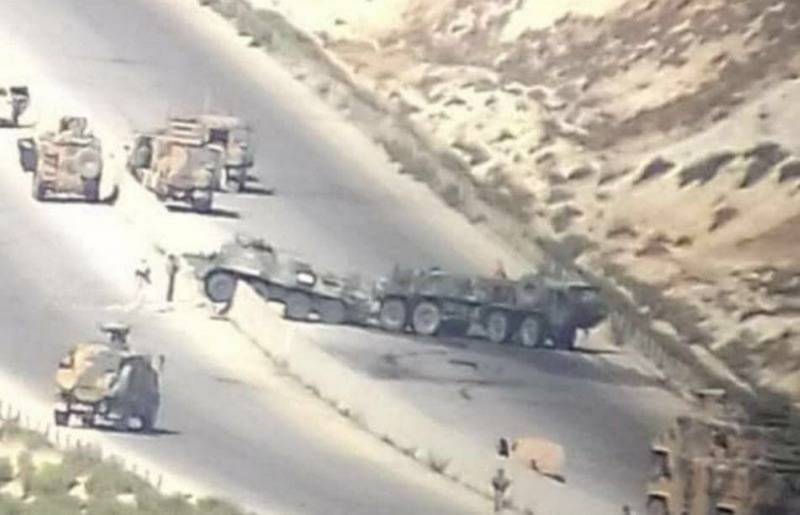 The situation in the Idlib de-escalation zone continues to escalate. The jihadists are not going to lay down their arms and do not abandon their attempts to destabilize a huge region in northwestern Syria.
The Center for Reconciliation of Warring Parties and Control over the Movement of Refugees in the SAR reported that militants once again fired at the joint 23rd Russian-Turkish military patrol, which was moving along the M4 highway in Idlib province. He was attacked in the area of ​​the settlement of Urum-El-Jauz.
As a result of the shelling of the column from a hand-held anti-tank grenade launcher, a Russian BTR-82A was damaged, and two Russian servicemen received light concussions. After that, the patrol was stopped. The Russians received medical assistance on the spot, they are in a satisfactory condition. The damaged armored personnel carrier was evacuated to the base using a Turkish tractor.
The convoy was attacked by the Kataib Khattab al-Shishani terrorist group (an organization banned in Russia), which includes mainly Chechen fighters. It is a structural subdivision of the larger Jaysh al-Muhajirin wal-Ansar (an organization banned in Russia).
Note that on March 5, 2020, Moscow and Ankara agreed to patrol the M4 Latakia - Aleppo highway on the Jisr al-Shugur - Serakib section. Moreover, the Turks promised to make efforts and influence their allies and their colleagues to leave the adjacent territories. However, the militants continue to attack and leave until they are going anywhere.