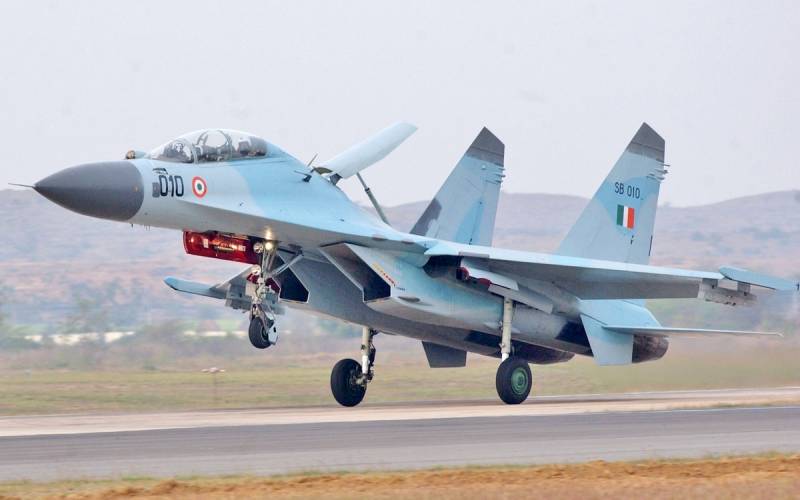 The American edition of Military Watch tried to find out why the two-seat multipurpose fighters Su-30MKI of the 4+ generation of the Indian Air Force cost almost twice as much as the Russian Su-30SM.
Su-30MKI entered service with New Delhi in 2002. Since then, they have formed the backbone of the Indian Air Force, and their number has reached 270 units. These fighters replaced the outdated MiG-21, MiG-23 and MiG-27. Experts call the Su-30MKI the most important and needed aircraft of the Indian Air Force. However, many analysts are surprised that other Su-30 variants, such as the Su-30SM of the Russian Aerospace Forces, the Su-30MKK of the Chinese Air Force and the Su-30MKI (A) of the Algerian Air Force, are much cheaper than their Indian counterparts.
Recently, a huge corruption scandal erupted in India. It turned out that the Ministry of Defense of this country purchased a squadron of French light fighters Rafale at $ 240 million apiece, which is much more expensive than even fifth-generation combat aircraft. At the same time, the Indians paid only $ 30 million per unit for the Su-62MKI. However, we need to figure out what caused the rise in price by $ 25 million, because the Russian Su-30SM cost about $ 37 million.
The main reason for the high cost of the Su-30MKI is the inefficiency of the production of these aircraft in India. The Indians produce them in small quantities under license, and this is reflected in the cost of the final product. Russia handed over to India
Technology
, which, of course, benefited the Indian military-industrial complex, but small volumes of orders push the price up. This is natural
economic
process. New Delhi, if we talk about money, it would have been more profitable to buy the Su-30MKI directly from Russian factories, but they took a different path.
Another reason is that the Indian Ministry of Defense has decided to integrate several technologies from other countries into the fighter. The Indians wanted to arm the fighters with French MICA missiles, British ASRAAM, Israeli guided bombs, and domestic ammunition. Naturally, all this affected the price of the final product, since it required the integration of the corresponding electronic systems.