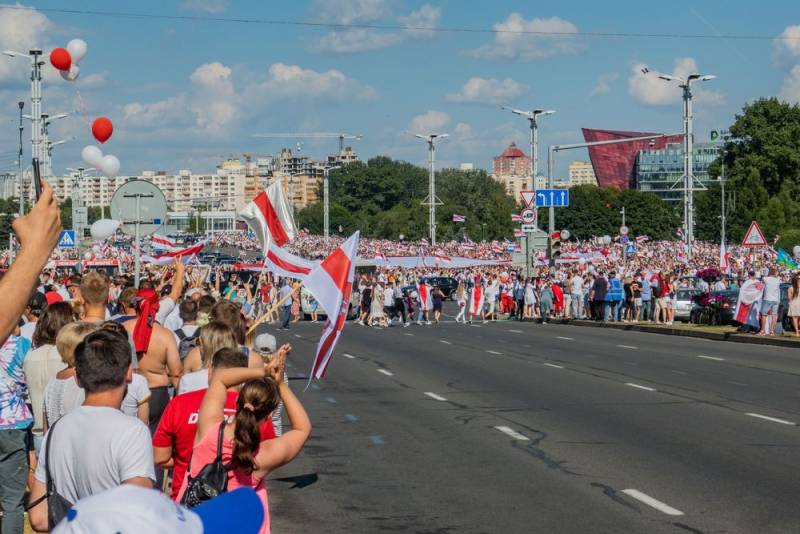 Minsk has become a center of clarification of relations between Washington, Brussels and Moscow, so Russia has several good reasons to send its troops into Belarus, writes the Chinese newspaper Huangqiu Shibao.
On August 19, 2020, the European Union held a special emergency summit, which was dedicated to the situation in Belarus. For a whole decade, the EU has not removed
economic
sanctions from Minsk and feeds the Belarusian opposition with all kinds of grants and bonuses. Even the COVID-19 pandemic did not prevent the Europeans from taking care of democracy on Belarusian soil. In Europe, however, like the United States, most of all they fear the unification of Belarus and Russia. Therefore, they try to prevent this.
In turn, Moscow was not in vain worried that Europeans and Americans would try to organize in "Belarus" a color revolution in "Ukrainian style". For Russia's security, there is nothing more important than Ukraine and Belarus - these are strategic buffers between Moscow and the West, represented by NATO. But now Kiev is lost to Moscow, and the West is approaching Minsk. Therefore, Russia has to take retaliatory measures, it simply cannot sit idly by, although not everything is smooth in relations between Moscow and Minsk.
At present, Russia has not yet decided whether it will send its army to Belarus or not. This is a very sensitive question, since Moscow itself has not yet clearly decided on its position. But Russia has three compelling reasons for bringing troops into Belarus.
First, a coup in Minsk and the coming to power in Belarus of pro-Western forces and Russophobes. Second, the incessant pushing of Russia out of its strategic space by the West. Third, if the Belarusian leader Alexander Lukashenko officially asks about it.
Now
политическая
the situation in Belarus is unstable, it is not clear how events will develop, and anything can end with anything. The EU, the United States and Russia have their own methods of influencing the situation. Europe is still limited by the "soft knife" strategy. Washington, together with NATO, is taking a wait-and-see attitude and does not want to use force yet. Probably, the West will choose the option against Belarus with pressure through sanctions and diplomacy. In this case, Russia will have no reason to send troops, and Moscow will not go to a reckless action.
Russia hopes that Lukashenka will be able to independently resolve the issue in his own country, even through a certain compromise with the opposition. But if the change of power in Belarus does not take place in the way that is beneficial to Moscow, then the Russians may decide to send troops.