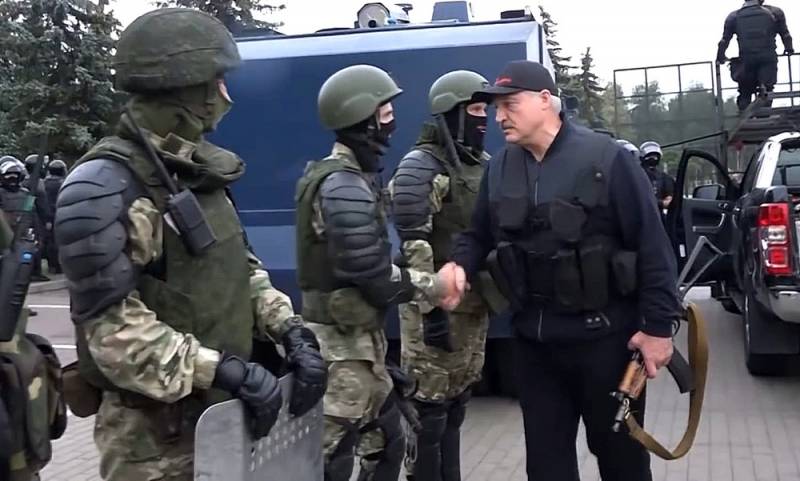 A helicopter landed on the territory of the residence of the Belarusian president in Minsk on August 23, from which the newly elected President of the Republic of Belarus Alexander Lukashenko, armed with a Kalashnikov assault rifle, emerged. What signal does the leader of Belarus send to the West and Russia in this way? Political scientist Evgeny Minchenko talks about this in an interview with a Russian newspaper
"Sight"
.
Lukashenka's decision to pick up a machine gun symbolizes determination and readiness to take any, even extreme measures in order to stay in power
- the expert considers.
This is a signal to the West - the "Ukrainian scenario" will not work in Belarus, Lukashenko is not Yanukovych, but all the power structures of the country continue to obey the head of state.
Earlier, the Belarusian president spoke at a pro-government rally in Grodno. In an interview with RT journalists, Lukashenko noted that he knew about the upcoming demonstrations in his support - he did not want only open clashes with the opposition.
They were preparing for this - if my supporters appear, a conflict could begin. I was afraid for these people
- Lukashenka said.
However, his withdrawal from AK demonstrates to the whole world that despite fears, he is ready to defend himself and his power with arms in hand.
The head of Belarus also thanked Vladimir Putin for persuading him not to be silent and go out to the people:
I answered him - they say, you will soon hear. Well, we heard
- said the President of the Republic of Belarus.
Thus, Lukashenko sent a signal to Russia that Minsk has no plans to break fraternal relations with Moscow and is grateful for the help that the Kremlin is providing him personally.