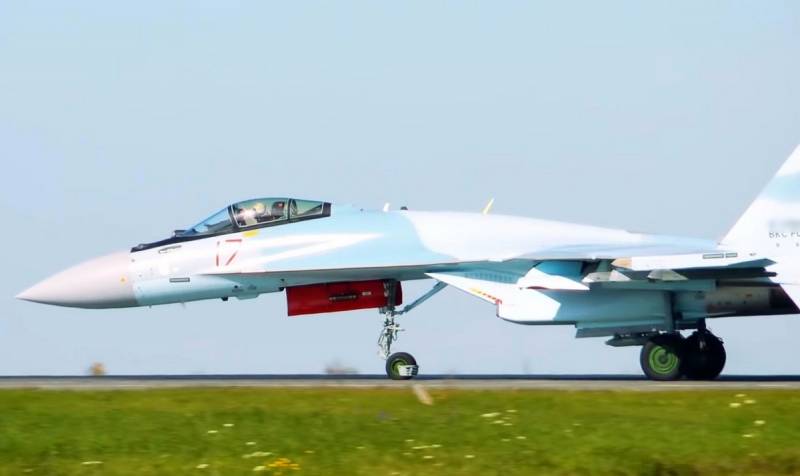 The Russian Su-35 fighter of the 4 ++ generation entered service with the Russian Air Force back in 2014. It was designed to confront the elite of the NATO air force - the F-22 Raptor of the US Air Force. Military Watch Magazine experts write about the success of the new Su-35 on the world stage.
The fighter boasts many significant differences from its predecessors, including new sensors, improved electronic warfare and avionics systems, a 70% reduced radar cross-section, lighter and stronger composite materials, high flight speed, powerful AL-41 engines and a number of new weapon systems.
Today, the Russian Air Force is armed with more than 100 Su-35s, and since the beginning of 2016, fighters have been actively participating in hostilities in Syria. The program for their production and delivery is considered very successful - export orders for dozens of aircraft have been signed with China and Egypt.
Considering that the more advanced Russian new-generation Su-57 heavyweight fighter has not yet entered service, and the Chinese J-16 and J-20 and the American F-22 are not available for export, the Su-35 can be considered the most combat-ready fighter in the world. market. In the coming decades, the Russian Federation expects additional export orders for this combat aircraft.
- MW analysts believe.
Cairo plans to acquire enough Su-35s to form at least three squadrons. Tehran is also interested in the supply of Russian fighters that can successfully counter the growing number of American F-22s and F-35s deployed in the Persian Gulf region, as well as Israeli aviation.
Official Delhi is also pondering the acquisition of the Su-35, which will be a "quick response" to the presence of Chinese J-20 and J-16 fighters near Indian borders.
According to some reports, Algeria is also planning to acquire Su-35 and Su-34 shock units. Ethiopia, with its relatively small military budget, may be more likely to invest in the Su-35 than in the Su-57 - the latter is more expensive to buy and operate. The Su-35 is the natural successor to the Su-27SK in the Ethiopian Navy, and the common design features of these aircraft will make the transition to a new class of fighters especially smooth - from pilot training to maintenance infrastructure.
According to South Korean intelligence, North Korea showed interest in the Su-35 back in 2015. Western sanctions then prevented the sale of such weapons to Pyongyang. With South Korea and Japan using upgraded versions of the F-15 and F-35A, the Su-35 could be the most cost-effective means of achieving a certain air parity. A contract for 24-28 aircraft may be signed, which will cost the North Korean regime about $ 2 billion. Whether the country will be able to master such a purchase largely depends on the possibility of lifting UN sanctions.