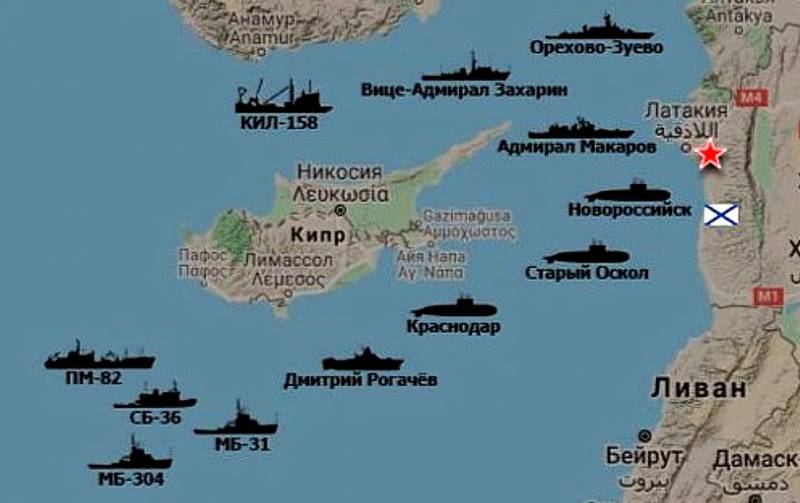 In the Eastern Mediterranean, there is an increased activity of the Russian navy, causing alarm not only among the Turkish special services, but also at British bases in Cyprus. This is reported by the Greek news agency Pentapostagma.
Currently, the Russian Navy has at least 9 weapons in the region, 4 of which are warships and 3 are submarines.
Similar activity is observed today at the Khmeimim airbase, as well as in the Idlib province, which may indicate the imminent start of large-scale hostilities. This was previously reported by the Syrian media.
Judging by the radio silence, Russian naval warships are preparing for operations in the eastern Mediterranean, which causes particular concern among the Turks - what could Putin be up to? Some Russian experts believe that we can talk about preparations for a special military action, although there were no official comments on this matter. Such activity of the Russian fleet in the area where warships of France, Greece and Turkey are located causes serious concern for Erdogan.
This morning, a Russian Russian transport plane flew to Syria to deliver additional weapons after it became known about the mobilization of the forces of the 4th Syrian motorized brigade - it plans to strike in the areas of al-Muzairib, al-Yadud. Tell Shihab, Kharab al-Shahm, al-Fawar, Zayzun, al-Ajmi in the western part of the Daraa province. Facilities in Idlib, where hundreds of Turkish soldiers and 450 weapons systems were deployed yesterday, will also be attacked.
This brings to mind the recent death of a Russian brigadier general, which angered the Kremlin. Some Russian media reported that Ankara may be involved in this murder.
The Russians have their own plans in the Mediterranean and they do not want Turkish sovereignty to be established here - Russia does not want to lose its "clients" in this region, as well as the naval routes to Suez, which may soon be opened.