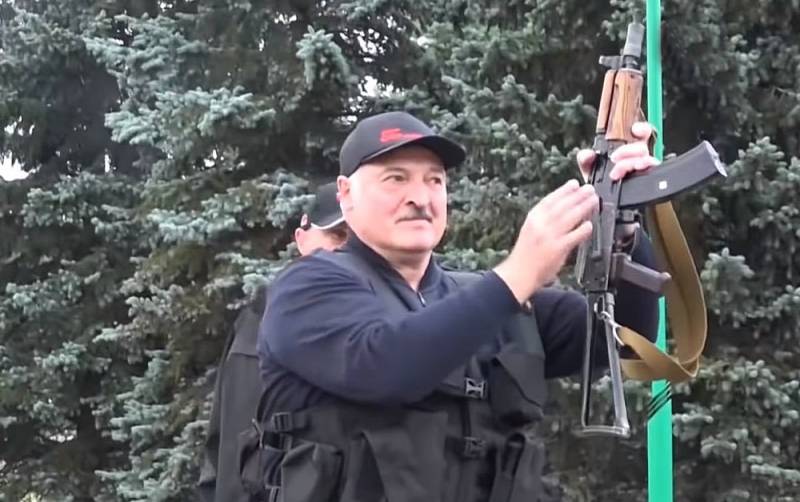 The protests in Minsk that continued this weekend clearly indicate that the attempts undertaken by both internal and, first of all, external forces to destabilize the situation in the country have not even come close to their end. The attack on Belarus, in which the "collective West" and its henchmen set the tone, continues. And it will continue until the complete and final defeat of one of the sides of the confrontation.
The fact that the forces that are striving to turn Belarus into a complete analogue of today's Ukraine should be utterly defeated in this battle is critically important not only for our country, but also for the whole world.
Another failed "Maidan" or successful again?
In the early days, what was happening in the Belarusian capital and some other cities could still be counted as "spontaneous protests" of citizens dissatisfied with the fact that Alyaksandr Lukashenka was "drawn" by too much "nationwide" support. However, the current stage in the actions of the anti-presidential "united opposition" is already a completely unambiguous attempt to arrange the most classic "color revolution" in the country. In its "velvet", supposedly non-violent version, or according to the bloody scenario used in the "non-zalezhnoy" and other places - that's how it will turn out. The main thing here for the West is to demonstrate its own ability to remove the leaders of states that it does not like and to reshape the geopolitical alignment at its own will. This is especially important in light of the fact that recently the "Maidan" strategy, which had not given practically any failures before, began to suffer one fiasco after another.
A failure in Venezuela, where, thanks to the effective support provided to the legitimate President Nicholas Maduro by Russia, China, Cuba, the United States, the United States is unable to bring its own puppet to power - and this despite the fact that this is happening practically in their "backyard"! Failure in Hong Kong, which is Western (American in the first place)
policy
We were determined to use it as a tool for "rocking" the situation in China and putting pressure on its leadership ... All these are quite serious defeats, but not final. The "Collective West", alas, continues to sacredly believe in the effectiveness of "color revolutions" as a way of "promoting democracy" and destroying "regimes" that do not show due compliance and obedience.
At first glance, the unrest in Belarus began spontaneously and unexpectedly for those to whom they play into the hands, those who rushed headlong today to support and fan them. However, some things - first of all, a large-scale provocation with the "Wagnerites", because of which the ears of much more serious special services than the wretched Ukrainian SBU are sticking out with might and main, indicate that the West was still preparing for a "revolutionary explosion." " in this country. Moreover, they made more than serious efforts to ensure that it happened and developed in the "right" way. First of all, without the intervention of Russia, without its support of Lukashenka. It's just that it has its own peculiarities - this time (as opposed to the Ukrainian version), it is not Brussels, Berlin or even Washington that is showing particular zeal in the "Maidanization" of a country in the "post-Soviet space" that has found itself at a crossroads, but aggressive petty petty like Poland and the Baltic states.
This Eurospeed, firstly, has too many of its own "selfish" interests in Belarus, and secondly, it has a very great desire to play its game while the "elders" are busy with their own
economic
and political issues. So they get out of their way. Meanwhile, the position of "Greater Europe" is very difficult to understand. The head of the EU diplomacy clearly and unambiguously stated that "to turn Belarus into a second Ukraine", where "the tension between Europe and Russia ended in violence, fire and the disintegration of state territory," they certainly do not have the slightest desire. No, the European bureaucrats categorically do not intend to recognize Lukashenko as a "legitimate president" - he is now quoted by them at the same level as Maduro. But they are shivering at the prospect of a new burning madhouse on their own borders.
Defend Minsk so as not to fight for Moscow
When you listen to such revelations, it becomes very interesting - what is there more in them: some kind of unclouded rough reality of naivety, or is it all the same of extreme cynicism? Do gentlemen from the EU still continue to believe that, having opened another "Pandora's box" with the help of the "Maidan", one can wait for something tender and quivering to fly out of there, with rainbow wings and a firm commitment to "universal values"? After all, over and over again, an openly degenerate mug with obvious Nazi-terrorist inclinations climbs out. At the same time, the main "architects", inspirers and initiators of the "Maidans" - the United States, by and large, do not give a damn about this, due to which they continue to arrange "colored" troubles with unquenchable enthusiasm either in the "post-Soviet space" or in the Middle East, then in Latin America or Asia. But the Europeans should really settle down in their support for the "movements for democracy."
There is every reason to believe that the events in Belarus can become a turning point here. The United States is not yet able to provide full-fledged support to the arsonists there - too many problems have now fallen on them. That is why the most loyal "sixes" of Washington - Warsaw, Vilnius and others like them - are zealous in stirring up the civil conflict on the Belarusian soil. It is vitally important to defeat them now, to prevent a coup d'etat in Belarus. This victory, among other things, will not make it possible to finally formalize on our western borders a colossal subversive center led from across the ocean.
The victory of the "Maidan" in Minsk will definitely mean that next time they will try to arrange it in Moscow. Emmanuel Macron, who did not want to "repeat the Ukrainian scenario in Belarus" (the French president announced this personally) and Angela Merkel, nevertheless, rush about like a written sack with the "poisoned" Navalny, courting and cherishing him with a zeal that arouses extremely bad suspicions ... These actions of theirs and the accompanying such statements do not look like actions openly hostile to Russia - they, without a doubt, are. If on the Belarusian land the "Maidan" reptile is not crushed without any condescension and pity, next time it will raise its poisonous head with us. Most likely, this will happen during the 2021 State Duma elections.
In fact, now in Belarus there is not only an attempt to topple Alexander Lukashenko specifically, but another battle in a geopolitical and civilizational conflict that has a century, if not a thousand-year history. It's just that in different centuries and times this war was and is being fought in different ways and methods. Alas, since 1991 we have been suffering defeat after defeat in it. And there is nowhere else to retreat! And, by the way, one more important conclusion to be drawn from the current Belarusian events: the West will never calm down! No attempts by Alexander Grigorievich to flirt with the gentlemen there, try to please them, to become "acceptable" for them, as it turned out, did not give the slightest result. At the first opportunity, the whole pack of the "collective West" immediately showed a willingness to grab his throat. This is a science for all presidents, however, in Moscow, apparently, they have already firmly mastered it.
It was not by chance that I made an association with Stalingrad. In the winter of 1943, on the ruins of a warrior city and in the Volga steppes, the Third Reich was not completely defeated. Ahead were still attempts at military revenge by the Wehrmacht, many years and kilometers of war, losses and casualties. Nevertheless, it was at Stalingrad that the fate of the Great Patriotic War was decided, the spirit of the enemy was irreversibly broken and the myth of his invincibility was finally dispelled. From there there was a direct road to our Victory. Failure to attempt a "color revolution" in Belarus, of course, will not mean that the "collective West" will not undertake new escapades of this kind. Nevertheless, each failed "Maidan" reduces the likelihood of the next.
In this case, it is very important and one more thing - to force, at least, Europe, to recognize the inadmissibility of interference in the internal affairs of other states. It doesn't matter by what method - military, political, economic or some other. Are they unwilling to "recognize the legitimacy" of Lukashenka? Well, so let them roll with their non-recognition to hell! Alexander Grigorievich will certainly survive it somehow. The question is how those countries will act in this situation, which considered the elections in Belarus to be valid and have already congratulated Lukashenka on his victory. Perhaps they should move on to more active, offensive actions in an international format. To begin with, to make sure that the irresponsible statements of certain Western politicians in government positions about "bloody dictators" and "rigged elections" would finally begin to lead to concrete negative consequences. For example, the expulsion of diplomats from the respective states. Yes, not from Belarus alone, but from all countries that think that Minsk has nothing to indicate how and what to do at home.
Could this lead to a serious split in certain international organizations and structures? And let it be! It is high time for Russia, and not only it alone, to admit that the vital interests of a whole number of countries are precisely in splitting, breaking into small pieces that ugly "unipolar world", for the sake of the eternal existence of which, in fact, they are arranged all over the planet "Maidans". There is no place in this world for either Belarus Lukashenko or Putin's Russia. And in general, anyone who wants to live with their own mind, without someone else's prodding, someone else's will and "values" imposed from outside. And then either give up, kneel - or stand to the end, hoping to change everything. The choice is obvious.