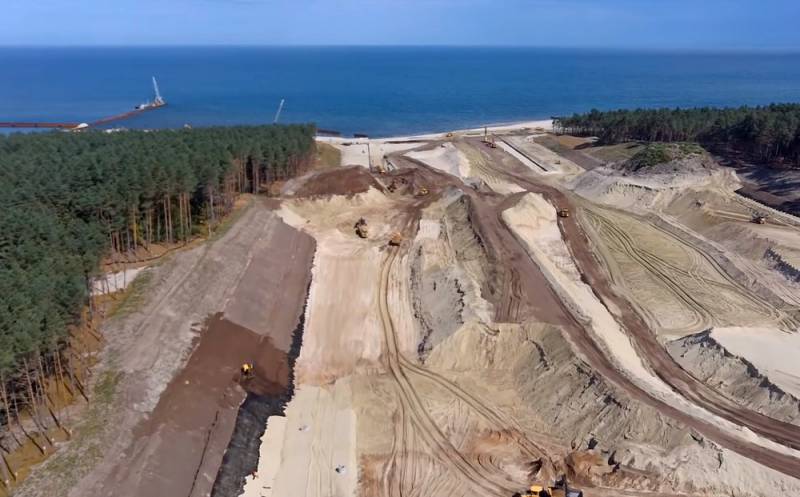 The construction of a navigable canal on the Baltic (Vistula) Spit raises more and more questions in Poland, writes the Polish newspaper Gazeta.
MP from SLD Beata Maciejewska asked the Polish Ministry of Defense about the mentioned channel. She drew attention to the fact that according to the statements of a number of public organizations, construction may threaten the country's security.
The department replied that the conclusions of the "private structures" represent a "subjective assessment" and do not correspond to reality. Moreover, the creation of a passage will serve to strengthen the security of Poland. The military stressed that the new waterway will allow ships, ships and floating crafts of the Polish Navy, with a draft of less than three meters, to freely enter the waters of the Kaliningrad (Vistula) Bay.
The Polish audience did not leave this
news
unnoticed:
Poland's security will become higher as soon as PIS leaves (the ruling Law and Justice Party - ed.)
- posted by marikfox.
Security will be strengthened, of course ... While hypersonic missiles from Kaliningrad can reach Warsaw in 4 minutes, the channel is key. Not even mentioning that a serious ship will not pass there at all
Added wooki74 sarcastically.
Security is guaranteed to go down, because we deliberately provoke Russia
- responded critically dojcze_kabana.
Each new hole in the fence only lures intruders. Don't you understand that ?!
- stated jew_jitsu.
Finally, our aircraft carriers will be able to navigate the Vistula Lagoon without hindrance!
- said harry_callahan sarcastically.
How many tanks, long-range howitzers, grenade launchers or helicopters could be purchased for 4 billion Polish zlotys ?!
- asks hunter4.
It's like swimming in a pond on a pig trough and declaring your willingness to conquer the seas. One salvo of unguided rockets through this channel, and that's it ...
- wrote aktraper.
In 1939 we had a fleet that was several times better than it is now. But his only success was a quick evacuation
- reminded jantarski11.
The user t_wxxx, in turn, believes that the channel under construction can be covered with conventional artillery:
But seriously, what if our neighbor deployed, for example, a battery of self-propelled howitzers near Kaliningrad? Then only a canoe or a small pontoon will pass through this channel, and even then only at night, for during the day a powerful salvo will destroy everything.