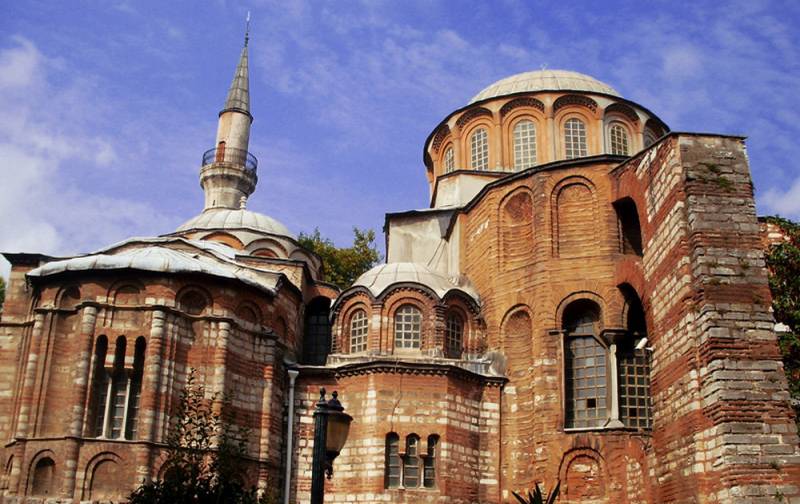 The Turkish authorities have decided to make another Orthodox church a mosque - Chora Monastery in the Fatih district of Istanbul, where the Church of the Holy Savior is located. This is reported by the Greek TV channel ERT.
Chora Monastery is one of the brightest architectural monuments of the era of the Comnenian emperors in Byzantium. It will be converted into a mosque using the same formal steps as for the Hagia Sophia - the latter became a mosque in July this year. The temple will be transferred to the department of religious affairs - the Christian frescoes will be closed, and the Chora will turn into a place of kneeling of Muslims
- transfers ERT.
The church was erected in Constantinople (Byzantine name for Istanbul) in 534 AD and is one of the oldest historical structures in Istanbul. In 1511, the temple was transformed into the Kakhriye Mosque, just like Hagia Sophia after the conquest of the Byzantine capital by the Ottomans. Chora was used as a mosque for 434 years, and it was not until 1945 that the monastery became a museum. The State Council of Turkey, as the highest administrative judicial body of the state, decided to turn the Orthodox monastery into a mosque again a year ago, calling the 75-year-old decision illegal.
According to a number of political analysts, such a measure fits into the outline of the actions of the Turkish authorities to revive "Ottoman greatness" - the strategy of revisionism, which is currently adhered to by official Ankara
- emphasizes the Greek TV channel.