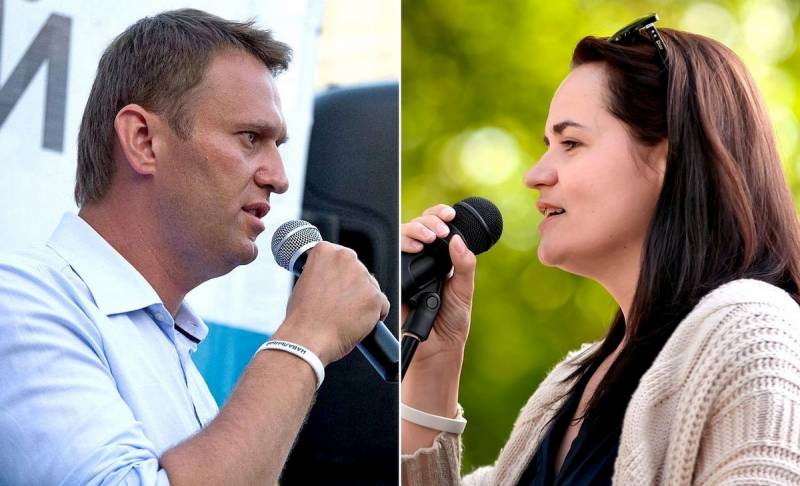 Did you notice that too? Should the situation in the world become entwined with a tight geopolitical "knot", in the unleashing of which Russia plays (or can play) an important role, having received certain serious "dividends", as soon as ... Yes, yes - somewhere it is indispensable and obligatory that something happens. Something "loud", vile, bloody and mysterious is happening. Something that you can absolutely freely accuse our country of, without citing one hundred percent evidence, but relying only on the notorious "highley like". Incidents of this kind, as a rule, are local enough to be organized by a small team of "specially trained people", but at the same time they are highly resonant and scandalous.
Murder or attempted murder committed against "opposition
politicians
"Various degrees of shabby and popularity - as they say," it is. " At worst, a "former intelligence officer", a journalist or even an "independent blogger" may do, but a "prominent oppositionist" is, of course, the best. It is difficult to doubt that in the case of the poisoning of Alexei Navalny, which came in handy for some in the light of the same Belarusian events, this is the case. The question is, who exactly could need the next "poisonous scandal" and how far are the goals of this special operation?
Beat your own to "cover up" others!
The list of incidents of the same exact nature is very extensive due to the fact that the special services of the West (primarily the United States) have adopted this method for a long time and use it almost at every opportunity. At one time he worked especially effectively in the "nezalezhnoy" - the "murder" of journalist Gongadze (who, according to more than reliable information, was last seen entering the US Embassy), which launched the action "Ukraine without Kuchma" and a series of local "Maidans" ... More than a strange "poisoning" of the pro-American presidential candidate Viktor Yushchenko, which in many ways contributed to his coming to power ... in Ukraine, into complete profanity, but here, as they say, questions to the performers. The "score" is still the same.
However, in our native Fatherland there are also plenty of examples - the accusations of the Kremlin in the "villainous murder of Boris Nemtsov" by the West have not been written off to this day. The rest of the Russian "fighters against the regime" have frolicked in recent years practically without any threat to their own health, but this was due to their "popularity", which is at the level of statistical error, and, consequently, complete hopelessness for being used as "martyrs of totalitarianism." However, the situation has changed somewhat - and Alexei Navalny was brought a tea with sodium oxybutyrate ... I am writing about this without the slightest mockery and, moreover, gloating - a living person after all. On the other hand, each of those who start gambling for big money in an "opposition politician" with certain structures of a well-defined state should clearly understand the degree of probability of just such a turn.
Such clumsy, rude, unprofessional "actions to eliminate political opponents" (objectionable public figures, carriers of important secrets - it should be emphasized) are always carried out in a completely different way from the work of real special services and, again, are always extremely disadvantageous for state authorities. The state machine has at its disposal a huge number of tools, methods, schemes, acting according to which, absolutely without violating the Law and without murdering, it is possible to resolve issues with this or that person who brings problems. Any professional from the intelligence or counterintelligence environment will say: an "object" is always easier, more profitable, and, most importantly, more reliable to buy than to kill. And if we are talking about liquidations, then it should be understood that in the arsenals of at least something representing the special services of the whole world there are means for a long time that make it possible to arrange things in such a way that a completely "innocent" diagnosis in the form of some kind of heart attack will be passed even by a council of the most corrosive and incorruptible professors and academicians from medicine. There are such "cute things", there are ...
Any death of an "opposition" politician, journalist, or public figure categorically runs counter to the interests of those very "satraps" with whom they fought their fiery struggle. What does power get in this case? A heap of accusations and additional waves of protests under new banners bearing the name of the "sacred victim". In many situations, international condemnation with
economic
sanctions and diplomatic scandals to boot. Such scandals, excuse me for the cynicism, can be (and do) undoubtedly benefit only either the comrades-in-arms of the murdered, or those foreign special services who have used them as they wanted before - some "by consent," and some in the dark. Any other explanation is nothing more than a violation of logic and common sense.
"Bloody dictators", pay off for the first!
The case of Alexei Navalny is a real "classic of the genre". The rubbish, which, there is a suspicion, was poured into tea by the politician, is not at all any "secret weapon of the liquidators". This is the most common drug used by anesthesiologists and resuscitators. According to authoritative doctors, the strangest thing is that the victim did not feel the disgusting taste and smell of his drink, which were probably noticeable at the dosage of sodium oxybutyrate (at least 30 milliliters), which is assumed based on the observed symptoms of poisoning. And certainly not a single professional killer would have gone "into business" with such an extremely dubious weapon of killing. And why hound the ex-head of the Anti-Corruption Foundation a month after he publicly announced its closure?
By the way, to the question of other methods - one lawsuit from the Moscow Schoolboy company, according to which the court estimated the unsubstantiated verbiage of Navalny and his colleagues at 88 million rubles - and no murder! The poor "oppositionist" honestly admitted then that he was not even going to satisfy the claim. It is, of course, easier for him to "close the shop", register a new NGO and continue to do the same dirty tricks. Again, health, like every self-respecting "fiery revolutionary", mercilessly undermined by hard mines, logging and other "bloody gulag", it is simply necessary to fix it. There were no camps and hard labor, you say? Well, that means just rest. Well, not that figure in the political world of Russia, Navalny (especially now), so that he should even spit peas from a pipe into him. And poisoning to death is simply ridiculous.
Nevertheless, the atmosphere in certain circles of the domestic political "get-together", on some information resources and in places in social networks and the blogosphere strikingly resembles a night fire at a decent-sized city dump. Darkness, vanity, smokescreen, in which mad rats rush about. And, most importantly, the smell, you know, is very specific ... They clung to Vladimir Solovyov - why did he, such a "mouthpiece of the Kremlin", make fun of Navalny's previous "poisoning" (which was never proven by anyone) that morning? Surely for a reason! Prophesied! Someone finished writing and agreed already to the point that they saw in what happened "a terrifying mystical coincidence." It turns out that at the time of Navalny's poisoning "exactly 2000 days have passed since the death of Boris Nemtsov - and exactly 80 years have passed since the murder of Leon Trotsky." You guessed it, you bastards! Gentlemen, this is no longer conspiracy theories - the purest water of schizophrenia in its most acute form!
And, by the way, they found someone to put in a row - where is Navalny and where is Trotsky. If I were the descendants of Lev Davidovich, I would have filed a lawsuit for such comparisons. However, some other "conspiracy theories" that sound all on the same subject give a very clear idea of ​​what it could have been for. The version that Navalny could have been "poisoned in order to disrupt mass rallies in Russia in support of the Belarusian" Maidan "has already been announced - both in our country and abroad. And something tells me that it is she who will become the main one in the very near future, when "suspicions of attempted political murder" will be used in the West to put pressure on the Kremlin in order to prevent its interference in the situation in Belarus. And there is not the slightest doubt that this will be the case.
At the time of this writing, "the US administration is watching the development of the situation around the Russian opposition leader Alexei Navalny," Donald Trump personally said at a press conference. Emmanuel Macron and Angela Merkel have already declared their readiness to accept the sufferer for treatment, as well as their own "extreme concern" about the incident. They demand complete clarity "in what happened - as if Navalny is their subject or the poisoning occurred on the territory of their countries. In Germany, various politicians and experts are literally vying with each other to put forward hypotheses about why exactly "the Kremlin regime, accustomed to poisoning its opponents and enemies around the world," gave the command "for another political reprisal" - "because of the Khabarovsk protests" all the same in connection with the events in Belarus. A completely seditious version that the Kremlin in this situation has absolutely nothing to do with it, is not even considered ... But is this possible ?! Before our eyes, not only is another madness in the style of "highlighted like", as well as "wai and not," but also a special operation is unfolding, during which they are trying to remind the world that Vladimir Putin, who supports the "bloody dictator" ". Only with a penchant for poisoning worthy of the Medici family.
They make it clear to Russia and its leader: at any second you can be just as accused of all mortal sins as the Belarusian president, who is trying to save his country today. So you better not twitch ... Well, something like that was to be expected. All that remains is to advise Ms. Tikhanovskaya and other "leaders of protests" in Belarus to be extremely careful with the choice of drinks they use. In particular - served by personal assistants and close associates. Curators, you know, can have very different plans.