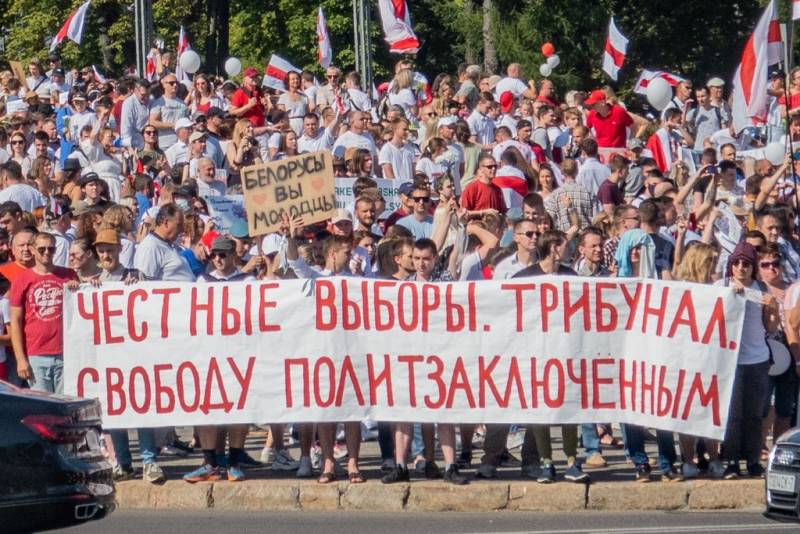 Expert Kamil Klysinsky from the Center for Oriental Studies was surprised at the "unexpectedly reasonable actions" of Russia in Belarus, writes the Polish edition of BiznesAlert.
Klysinsky does not consider the actions of the Belarusian authorities to be correct, since the anachronism of arguments and the lack of content hinders Minsk. However, he is confident that President Lukashenko will defend himself to the end.
Lukashenka's tactics of appeasement and self-termination of protests are not yet effective
- he is sure.
The expert noted that slogans about an external threat do not touch the hearts of Belarusians. He sees the determination of people to protest further. The opposition felt its strength and believes that it has chosen the right moment to demand changes in the country.
Yes, we are seeing a decrease in the number of demonstrations over the course of two days, but this may be due to the fact that it is a work week, not a weekend. But there is a risk that the authorities will still return to repression and putting pressure on the insurgent workers of enterprises, seeing the ineffectiveness of the dialogue in their understanding
- He said.
Russia during the election campaign and after it carried out a very reasonable
policies
which, admittedly, is surprising. There is no blind action, demonstration of muscles and shouts that "this is ours and will remain ours," as it was in the past. Now Moscow has taken a wait and see attitude. And it paid off to a certain extent
- he stressed.
Moscow hoped that Lukashenko, who brutally suppressed the protests, would be left alone and forced to agree to deep integration with Russia. Now the Russians are faced with the question of whom to support in Belarus in order to protect their interests. Without a doubt, the Kremlin is considering various options.
It should be remembered that the success of the revolution is not in Russia's interests. Lukashenko may be wayward and grumpy, but nevertheless, he is a predictable and convenient politician for Moscow.
- the Pole is sure.