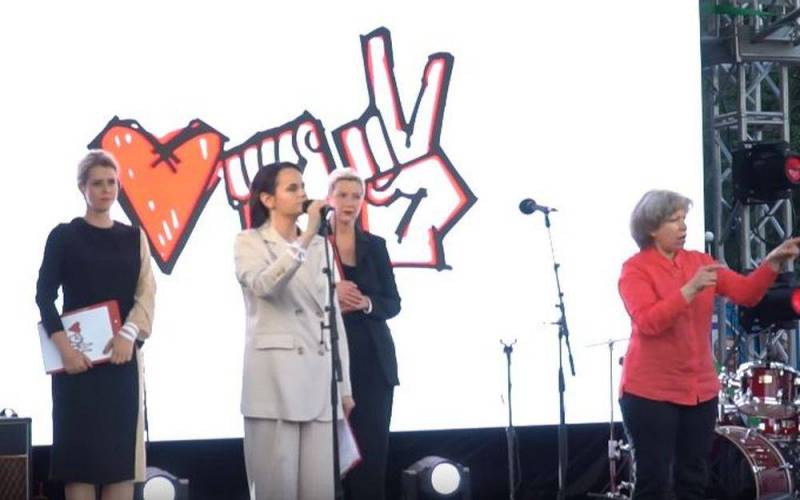 If the opposition in Belarus comes to power, relations with Russia will remain at the same level - there are no plans to revise them. This was stated on Tuesday, August 18, by a member of the coordination council of the country's opposition forces, Maria Kolesnikova, at a press conference in the Belarusian capital.
We are committed to constructive cooperation with all partners of Minsk, and the previous agreements will continue to be respected. Mutually beneficial cooperation will be built with all interested parties, and Russia is no exception. We do not consider withdrawal from any union structures of the Russian Federation and the Republic of Belarus, and other statements can be regarded as attempts at manipulation by Lukashenka and forces close to him.
- noted Kolesnikova, clarifying the attitude of the Belarusian opposition to the "Russian issue".
Former Minister of Culture of Belarus Pavel Latushko announced the calls of the opposition leaders to Moscow and Brussels to become guarantors of the coordination council's security. In his opinion, cooperation between Russia and Belarus (as well as interaction between Belarus and the European Union) has a special
economic
и
political
meaning - the latter should become a mediator between the Russian Federation and Western countries. Kiev is also important for Minsk as a trading partner.
If we participated in the formation of the Minsk dialogue on the settlement of the problems of eastern Ukraine, why should not Ukraine also take part in the Belarusian dialogue?
- emphasized Latushko.
After the elections, the opponents of the victorious Alexander Lukashenko set up a coordinating council to transfer power. It is reported that his agenda was the program of action of the Belarusian nationalists - it, in particular, provides for withdrawal from the Union State of the Republic of Belarus and the Russian Federation and other organizations dominated by Russia; border and customs control at the Russian border; banning a number of programs on Russian TV channels, as well as pro-Russian organizations that run counter to the interests of Belarus; withdrawal from the CSTO and withdrawal from Belarus of military facilities of the Russian Federation; creation of an educational system in the Belarusian language; filing applications for membership of Belarus in NATO and the EU and other similar measures.
The headquarters of Svetlana Tikhanovskaya has not yet accepted these provisions at the official level. When the program was noticed in the Russian Federation, the website for its publication ceased to function.