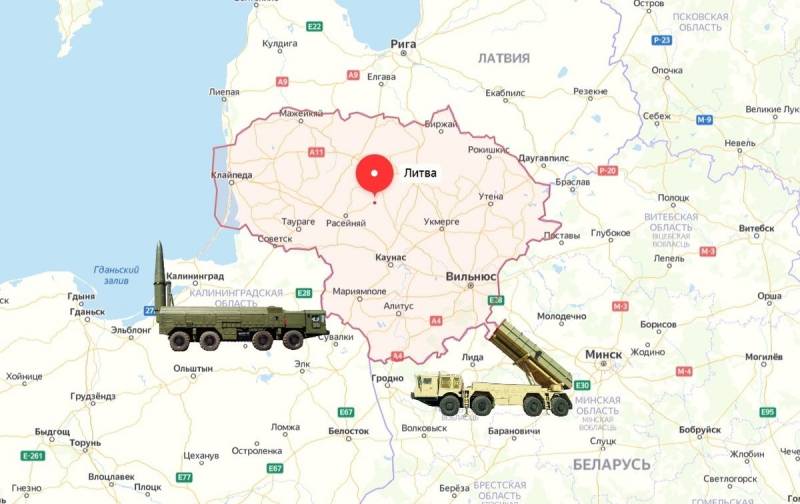 The Russians are conducting large-scale military exercises in the Kaliningrad region, while the Belarusians simultaneously began similar events on the territory of their country. As a result, Lithuania was caught between maneuvers in Russia and Belarus, writes the Defense Blog.
On August 17-20, 2020, the Belarusian Armed Forces are conducting missile exercises in the Lida district of the Grodno region, bordering Poland and Lithuania. In the same region, only in the Ostrovets district, the BelNPP is located. The Belarusian military deployed MLRS, artillery, tanks, infantry fighting vehicles and other
machinery
.
The core of the Belarusian missile forces is the B-200 "Polonez" multiple launch rocket systems. The specified RZSO is a launcher for eight 301-mm Chinese A200 missiles, located on the basis of the MZKT-7930. The firing range is from 50 to 300 km.
In addition, before that, in the Minsk region, the movement along the highway of tactical missile systems 9K79-1 "Tochka-U" with a firing range of up to 120 km was noticed. As of 2019, Belarus had 36 such systems.
As far as Russia is concerned, the Kaliningrad Region is a strategic outpost for it located deep in NATO. On August 17, 2020, the Baltic Fleet conducted exercises to eliminate the enemy's DRG and covertly deploy the Iskander OTRK with a missile strike, writes the Defense Blog.
More than 20 airplanes and helicopters took part in various combat training missions. Front-line Su-24 bombers and Su-30SM multipurpose fighters performed bombing in the face of opposition, while Su-27 fighters intercepted airspace violators. Attack and military transport helicopters Mi-24 and Mi-8 were also involved, as well as the Ka-27 naval combat helicopters and the An-26 military transport aircraft.