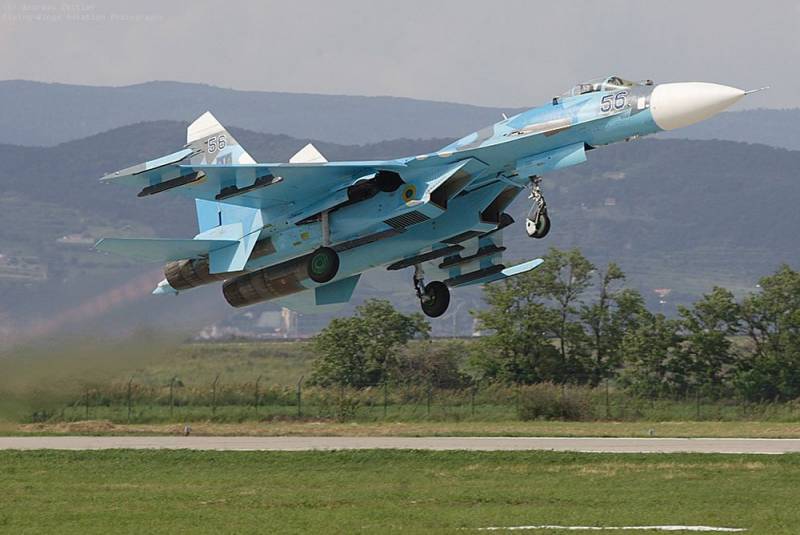 Ukraine inherited about 1200 aircraft from the USSR. As a result of the "intensified reform", in the spring of 2014, when the "Russian aggression" began, the Air Force of the Armed Forces of Ukraine presented a depressing sight, writes the Ukrainian newspaper Den.
The publication notes that by this time there were 211 combat and 49 transport aircraft in service. Moreover, no more than 55 units could actually take off. In May-August 2014, 13 units were lost in the Donbass: 7 Su-25, 2 MiG-29, 1 Su-24, 1 An-26, 1 An-30, 1 Il-76. Kiev realized the problem and began to take action. In 2014-2015, 7 Su-25, 5 Su-27 and 3 An-26 returned to service.
Taking into account the war, the threshold for aircraft requirements was lowered. All of them were previously in storage bases. In 2016-2017, the Armed Forces received more than 15 aircraft that were modernized at aircraft repair enterprises, including 6 An-26.
The update allows the An-26 to fly on international air routes and participate in joint actions with NATO forces
- boasted of the restoration of the "power" of the Ukrainian Armed Forces in the publication.
The newspaper noted that the number of aircraft capable of performing combat missions has increased significantly over the five-year period. The airfield network began to revive. If in March 2014 only 25% of the inherited airfields functioned in Ukraine, then in January 2016 there were already 50% of them and continues to grow.
Attention was drawn to practicing the landing of the MiG-29 and Su-24 on highways, conducting a large number of training battles and interceptions, landing and firing at ground targets. The aircraft began to receive many times more fuel, which made it possible to increase the flight time of pilots from 10 hours to 100 hours and more.
In 2017, the fourth Vostok military air zone was created, the headquarters is located in the Dnieper. Since then, there has been a process of forming an aviation grouping, the main bases of which are the airfields in Kramatorsk and Mariupol.
Now Ukraine cannot produce its own combat aircraft, and buying foreign products will cost a lot of money. Therefore, the publication asked whether Ukraine is capable of giving Russia a worthy rebuff in the event of a "full-scale invasion"? As a result, it came to the conclusion that in this case both the number of aircraft in Ukraine and the qualifications of the pilots themselves will play a huge role.