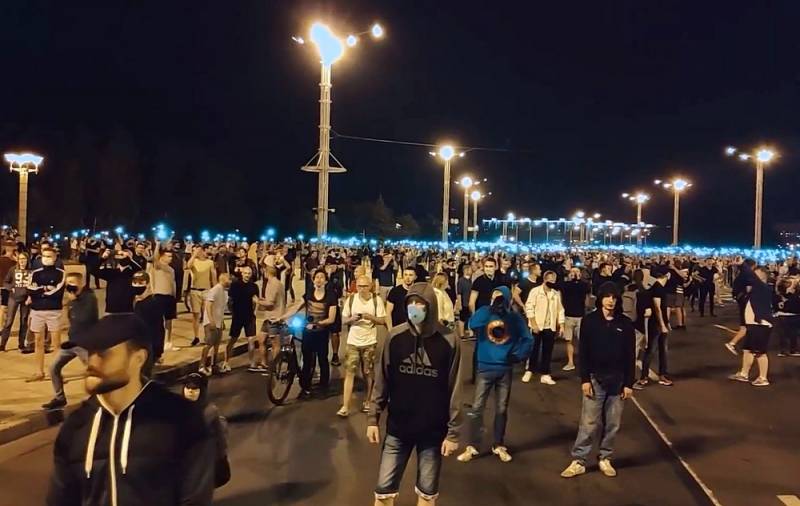 The intensity of the passions of street protest in Belarus has clearly subsided, the performances are becoming more and more sluggish, non-violent. In this regard, it is not so much the internal aspect as the foreign policy aspect that comes to the fore in the question of the hasty and unsuccessful "white maidan". The world must somehow react to what is happening in this country, and each of its parts has to do it in accordance with the principles it declares. Russia, China, most of the countries of the "post-Soviet space" have already made their minds and did it quite quickly.
But the so-called "collective West" with its "democratic values" is not to be envied in this situation - after a short game of silence, they began to make unusual attempts to openly interfere in other people's internal affairs. At the same time, it seems that the "luminaries of democracy" and its "pillars" on both sides of the ocean do not really understand how to actually proceed further. And what, in fact, are the options - both they and Alexander Grigorievich?
And we thought ...
Most of all, in this situation, it is touching that some Western
policy
today they try to "make big eyes" and raise their eyebrows in surprise: "But how is that? After all, he seems to have become civilized, domesticated? Aspired to Europe? And now such a horror! " This is all utter hypocrisy, of course. "Old Man", who spoke about "European values", caused homeric laughter in normal people - the hasty mask of an authoritarian ruler who was "democratizing" to please the neighbors did not suit him too much. Now this mask has been thrown somewhere under the feet of the riot policemen, who "put their minds" to those who decided that Alexander Grigorievich could be "taken unceremoniously." Not such was attacked!
And now what do you order the gentlemen from the European Union, whose delicate feelings are terribly wounded by the brutal videos from Minsk? What they were hoping for, keeping silent for a while, like a fish on ice, is absolutely incomprehensible. The fact that Lukashenka, fearing the "people's anger", will take and surrender? That Belarusian militiamen would rush to fraternize with protesters who are already preparing proscription lists for them? What will "dissolve by itself" somehow? In the end, it became simply indecent to ignore what was happening literally close by, and the West began to speak. In this case, the speech of German Foreign Minister Heiko Maas can be considered more than indicative, admitting with great sorrow that "hopes for the development of Belarus in the right direction" were brutally "dashed" by forceful actions against the protesters. Herr Maas immediately called on the entire European Union to unite in a single impulse and "take a common position regarding Minsk", which should be expressed in "the utmost increase in pressure on it." At the same time, the head of the German Foreign Ministry bitterly lamented about Lukashenka: "But we still removed the sanctions from him!" The treacherous cheat ...
The most irreconcilable (and most counterproductive) position was more than expected taken by the closest neighbors of Belarus, in their striving to "promote" and "defend democracy", which have recently been striving to surpass even the "Washington regional committee". Polish President Andrzej Duda, Lithuanian President Gitanas Nauseda, Latvian President Egils Levits and Estonian President Kersti Kaljulaid came up with the idea of ​​giving Alexander Lukashenko a natural ultimatum. In their appeal, published on the official website of the head of the Polish state, these figures are not asking their Belarusian counterpart, but demanding from him absolutely impossible and unrealistic things. Such, for example, as "an immediate cessation of forceful actions against participants in street actions" (whatever they do). Immediate, again, "release of all detained protesters", and "without further prosecution". That is, without due process and without bringing those who deserve it to justice under the Law. The third point is generally the crown of the absurdity I have quoted. It says that Lukashenka should "start a dialogue with the people" right now (that is, with those who seek to overthrow him). For this, it is proposed to create a kind of "round table with the participation of representatives of the authorities and civil society." Following the example of Yanukovych, presumably, and with the same consequences ...
Moreover, insolent people also offer themselves, loved ones, in the role of mediators for "settling the situation", as well as (hold your breath!) "Strengthening the sovereignty and independence of Belarus." You see, they are ready to come to Minsk to teach everyone there wisdom. Well, and democracy, of course. This surreal passage is perfectly complemented by the most common tantrum staged on Twitter by the ex-Lithuanian president Dalia Grybauskas, who went down to calling Lukashenka "a bloody dictator who has no future on Belarusian soil". And this, excuse me, is her decision?
Further development - options are possible
They did not continue to "pause" in Washington either. The head of the US Department of State Mike Pompeo, without further ado, offered a simple and elegant (as he sees it) solution: to cancel the already held presidential elections in Belarus and hold new - "democratic" ones with the participation of "serious international observers." There is no doubt that as such Mr. Pompeo would be best suited to a pair of motorized NATO divisions. However, the head of the State Department tried to make it clear to Lukashenka that "backward motion" with the expression of appropriate submissiveness is still possible, promising "to see how the situation in the country will develop in the near future". But already now, Pompeo is frightening Minsk with the widest range of sanctions, and, above all, with exclusion from American oil supplies. Yes, exactly like the proverbial hedgehog ...
The point is that Lukashenka simply does not have a special choice about the "near" and even more distant future. He knocked down the current wave of protest, but there is a much more difficult task ahead of him: not to let the "Maidan" "sprout" and gain a foothold in the public life of Belarus and the consciousness of its inhabitants. What has spilled out onto the streets of Minsk and other cities in the last days and nights has not only aggressive "tops" who have tasted clubs and rubber bullets in full, but, which is much more dangerous, hidden roots, and, judging by the scale of what is happening, they are very deep and branched. Now they will need to be rooted out, not being afraid to get their hands dirty and, most importantly, not taking into account the reaction of the West, which, day is clear, will be extremely negative. One of the most concrete examples is the planned arrival of the US ambassador to Minsk, which was about to take place after a long break in full-fledged diplomatic relations between the two countries. If Lukashenka does this in the current conditions, he will literally have a full-fledged headquarters of the new "Maidan" close by, which will be much more difficult to cope with.
And other countries are not going to limit the range of dirty tricks prepared for the "dad", in which they "suddenly" again recognized the same "last dictator of Europe", by mere expressions of "deep concern". For example, the Minister of Foreign Affairs of Lithuania Linas Linkevičius stated in a completely open text that his country is ready even now to welcome with open arms all Belarusian "Maidan people", who are called "persons suffering from cruel treatment" there. In fact, this means organizing another snake nest on Lithuanian territory, the purpose of which will be to undermine the situation in the neighboring country - in addition to a similar nativity scene, which feels great in Poland and has shown its not weak effectiveness during the current mess. It will be possible to protect the country from the impact of such subversive centers, which will now begin to multiply along the Belarusian borders, like filthy mushrooms after a rain, only with extremely tough actions. If the local "siloviki" (of course, at the suggestion of Alexander Grigorievich) do not undertake such, then by the same token they will sign the verdict for him, for themselves, and for the country.
A new "Maidan", and in a much more organized, large-scale, aggressive and bloody version, will then only be a matter of time. Let me say (for those in doubt) that both the President of Belarus and many other representatives of the higher authorities there (including the heads of law enforcement agencies and "power" structures) today experience a completely sincere, not at all feigned shock from what is happening. Some two or three years ago, they were all firmly convinced that nothing like this was possible in principle! Believe me, that's exactly what happened. Now, having coped with the "impossible" that has befallen them and accepting the new reality, they all have to draw serious conclusions, revise many strategies and plans, and this will have to be done in a fairly limited time.
The West does not intend to play "handshake" with Lukashenka anymore and beckon him with even the most virtual "carrot". From there, more and more distinct calls are heard, not so much for a whip, but almost for an ax. Take, for example, Radoslaw Sikorski, former Polish Foreign Minister and now a member of the European Parliament. He stated that while "punishing" the Belarusian authorities for "violence against protesters", it is necessary "to leave the territory of sanctions and move to the competence of the International Criminal Court for responsible officials". I wonder how Pan Sikorsky intends to drag Belarusian "siloviki" into the Hague trial? Could it be that they had occupied this country beforehand? It definitely smacks of a hint of Yugoslavia - while Lukashenka is already being predicted by some "the fate of Milosevic or Gaddafi". And, by the way, there is some reason for such gloomy forecasts.
With Alexander Grigorievich will not work the number that worked perfectly, for example, with two Ukrainian presidents - Kuchma and Yanukovych. As far as is known, Lukashenka and his entourage simply do not have foreign assets, threatening to block or confiscate which, they could be productively blackmailed. There are no oligarchs in the country either, using whom or "persuading them to cooperate" by exactly the same methods, it would be possible to arrange a "Maidan" according to the Ukrainian scenario. Here, if the West decides to really go to the end, it will have to act extremely directly, roughly and tough. Yes, Brussels has already announced its readiness to introduce new
economic
sanctions (only Hungary is openly opposing them today), but what are the sanctions to the country and its leader, who lived under them for decades?
The West has finally decided on its attitude towards Lukashenka, and now it is only a matter of developing specific plans and methods for his elimination. Well, it's time for Alexander Grigorievich to decide on the choice of those who will help him avoid such a sad ending.