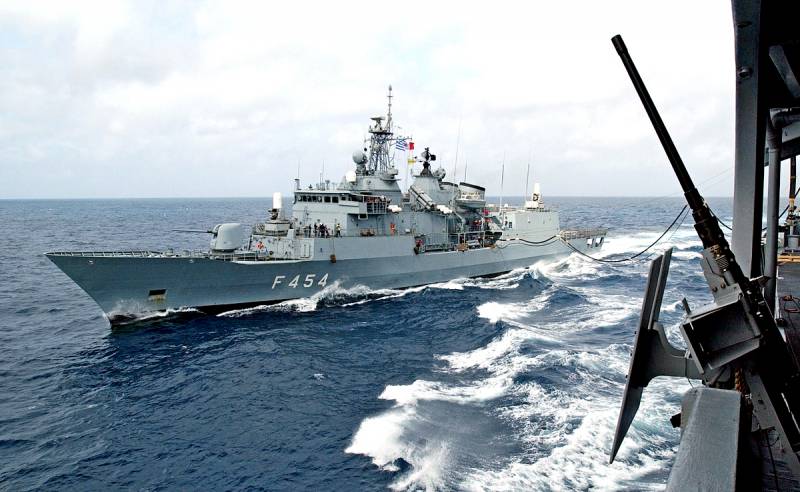 The Greek naval frigate Limnos and the Turkish warship Kemal Rice collided in the eastern Mediterranean. According to the Greek agency Pentapostagma, the Greeks "taught a lesson" to the Turks, having made a bulk on a frigate of the Turkish Navy.
The incident between the ships of the two countries took place on Tuesday, August 12, in the disputed region of the eastern Mediterranean Sea, where seismic exploration is being conducted by the Turkish scientific vessel Oruk Rice.
Greece could benefit from the event in two ways, according to Slpress. On the one hand, the Greek frigate managed to "deploy" this offensive move of the Turkish Navy to the detriment of Ankara. On the other hand, there is evidence of "flagrant Turkish aggression", which could have far-reaching consequences.
The previous evening, Greek Prime Minister Kyriakos Mitsotakis announced in a televised address that the risk of ship accidents in the Aegean Sea is increasing due to the too high concentration of warships in such a small sea area.
Meanwhile, the confrontation between Athens and Ankara in the region has its own political
economic
background. On August 6, the authorities of Greece and Egypt signed an agreement on the demarcation of maritime boundaries and the establishment of an exclusive economic zone in the Mediterranean. This agreement allows the parties to benefit greatly from oil and gas production. Greek Foreign Minister Nikos Dendias said that the agreement complies with all provisions of international and maritime law and ensures security and stability.
The Greco-Egyptian treaty was a reaction to the attempts of the Turks to claim their rights to the shelf of the eastern Mediterranean. To ensure its interests, Ankara had previously drawn closer to Libya's PNC, supplying it with weapons and directly intervening in the intra-Libyan conflict. Erdogan signed a memorandum of understanding with Saraj on maritime zones, violating the plans of Greece, Cyprus and Israel to explore in these areas.
The Turkish-presented map of the region does not recognize the rights of the Greek islands to mineral deposits in the Eastern Mediterranean. Meanwhile, the estimated reserves of natural gas in the region are about 122 trillion cubic meters.
Thus, Greece and Turkey claim their rights to the same maritime territories, which is why the countries actually found themselves on the brink of war.