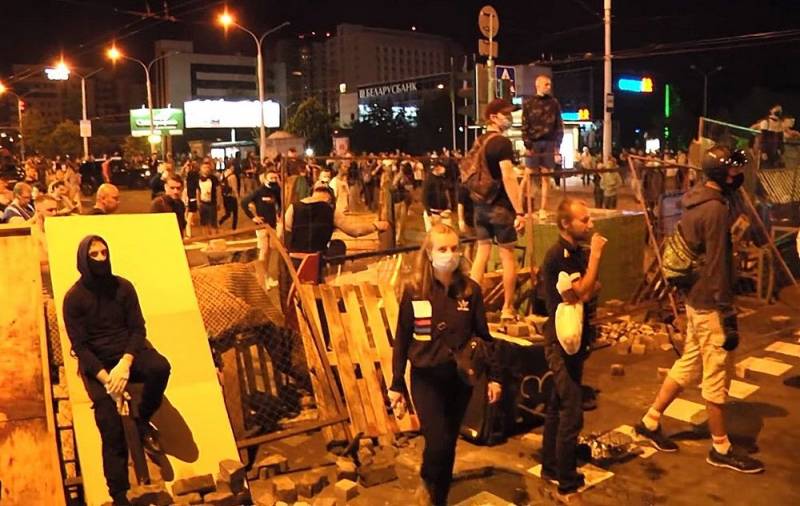 In Minsk, on the night of August 10-11, 2020, "peaceful protesters" who disagreed with the results of the presidential elections in the country began to erect a barricade. Events began to resemble the "Ukrainian scenario", but the speed of its development is many times faster than it was in Ukraine, and therefore the denouement may come earlier.
The footage from the Belarusian capital clearly shows how "peaceful protesters" violate public order. They throw stones and Molotov cocktails at law enforcement officers, insult them and launch fireworks in their direction.
Near the Riga department store, right on the roadway, they began to erect barricades from garbage cans, fences, billboards, paving slabs, wooden pallets and other items pulled from adjacent neighborhoods. "Peaceful protesters" from somewhere even rolled a huge cable reel. Everything that they managed to find was used.
Unlike Kiev, there were no deposits of car tires in Minsk. But law enforcement officers only on the second attempt, using water cannons, tear gas and stun grenades, managed to unblock the roadway and push back citizens who were eager for immediate European integration.
It should be noted that Russophobic media and Telegram channels from various countries support the participants in the riots in Minsk as much as they can. They spread deliberately false information that "the special forces are exhausted", "Lukashenka fled", "the army hates the police". At the same time, all this public states that law enforcement officers in Belarus are more loyal to the authorities and motivated than their colleagues in Ukraine in 2014.
There is practically no doubt that the Belarusian "onizhedets" will repeatedly try to gain a foothold on some piece of land in Minsk, erecting a barricade and setting up a tent camp behind it. Without the organization of a permanent tent camp, where the protest masses will accumulate and the stages on which the "leaders of the nation" will perform, the Maidan is doomed to failure. In Ukraine, the authorities did not immediately understand this. We will soon find out how the leadership of Belarus will behave, since events are developing very dynamically.