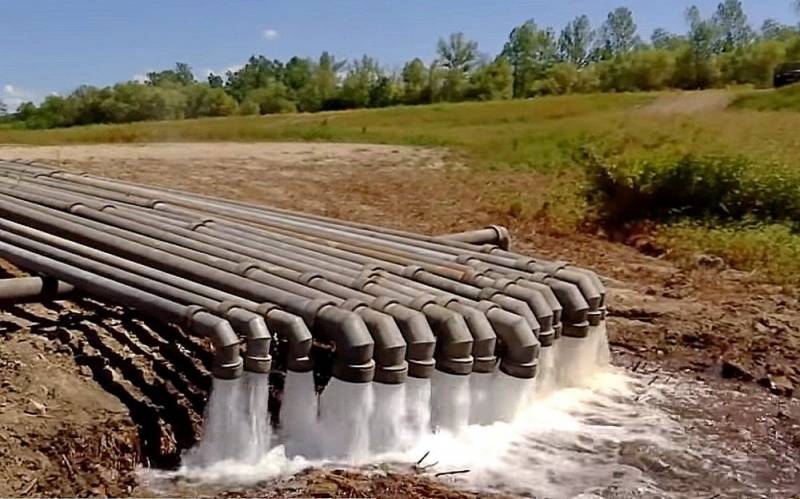 Within a month, the Russian Ministry of Defense built a pipeline system near the capital of Crimea and began filling the Simferopol reservoir. Russian military
responded instantly
at the request of the Crimean leadership, and now every day about 50 thousand cubic meters of water is additionally supplied to the needs of Simferopol residents.
15 water supply lines connected the Taigan reservoir of the Belogorsk region with the Simferopol one. The construction of an important national economic facility was carried out by specialists and servicemen of pipeline battalions from three military districts, as well as from the Russian Black Sea Fleet. The solemn event on the occasion of the opening of the waterway was attended by the Deputy Minister of Defense, General of the Army Dmitry Bulgakov and the head of the Republic of Crimea Sergey Aksenov.
Bulgakov noted that the department involved more than 800 personnel and 250 units
equipment
... More than 2 thousand tons of various cargoes were delivered to the peninsula, and the total length of the pipeline system is 800 kilometers.
He added that there were certain difficulties during the construction. The terrain, settlements and roads that were in the way of the builders interfered. The military had to build three pumping stations, and not just "throw" pipes.
This water supply will be here until the water situation improves. It will be served by a special battalion - 180 people
- specified Bulgakov.
In turn, Aksenov said that now the situation with water supply will significantly improve. The head of the Crimea stressed that due to the withdrawal of water from the Taigansk reservoir, not a single settlement will be affected.
We are planning to reduce the intake from the Simferopol reservoir to bring it back to normal. For the city of Simferopol, this is the only correct decision. The situation will level out, and then it will be seen. Restrictions are possible, but they will be much smaller than before the construction of the water supply
- summed up Aksenov.