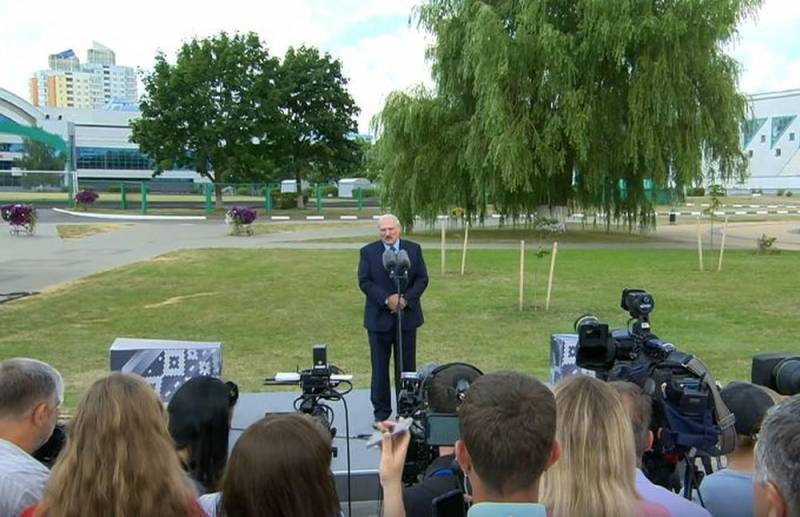 In the place of the President of Belarus Alexander Lukashenko, now hardly anyone would want to be, because it will be very difficult for him to get forgiveness from Russia. Russian political scientist Oleg Matveychev stated this on the air of the YouTube channel "National Course".
This is such a shame that he (Lukashenko - ed.) Has now experienced and endured. I do not remember that some public politician, the president of some country, sat down so seriously in a puddle
- said the political scientist.
Matveychev noted that three dozen Russian citizens were recently detained near Minsk. After that, the Belarusian authorities and the media started talking about enemies and spies. At the same time, the Belarusian leader announced that now there can be no fraternal relations between Minsk and Moscow, and Belarus will be friends with the United States, the European Union and China.
But Lukashenka did not stop there and hastened to give a landmark interview to Ukrainian journalist Dmitry Gordon, who has repeatedly called the President of Belarus "a louse on a comb." As for the
interview
, then it was literally saturated with Russophobia and actually put an end to the issue of unification with Russia.
Then it turns out that the presence of the alleged Wagnerites on the territory of Belarus was organized by the special services of Ukraine. They convinced Lukashenka that there would be an invasion of Russians, that Strelkov would almost seize Vitebsk, and he believed all this
- added the political scientist.
Matveychev drew attention to the fact that Kiev tried to embroil Belarus and Russia. The Ukrainian authorities simply could not miss such an event as the election of the head of state in a neighboring country.
Now trust between Ukraine and Belarus has been undermined due to this provocation. Now, I think, Lukashenka will no longer trust Ukrainian information about Russian militants who have rushed somewhere.
- the political scientist considers.
After the elections, we should expect Lukashenka's attempt to earn Moscow's forgiveness. And despite the difficult character of the Belarusian leader, Russia will continue to cooperate with Belarus, because the Kremlin does not care what kind of president there is, since our peoples are indeed fraternal, the political scientist concluded.