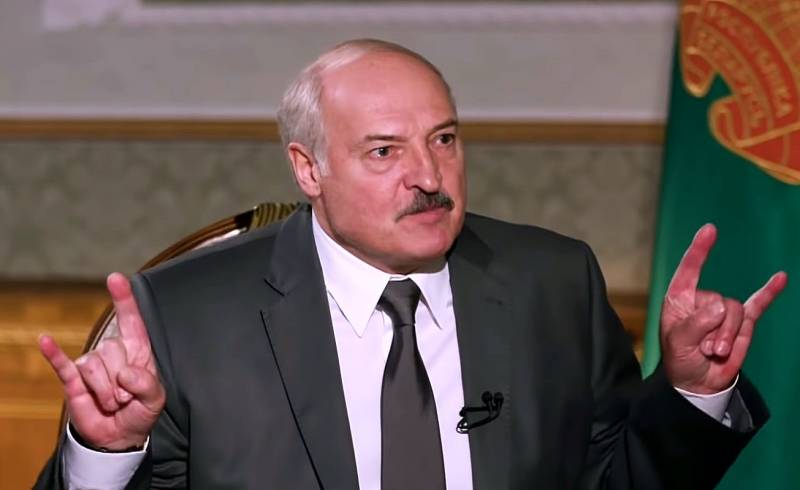 On the eve of the presidential elections in Belarus, events began to accelerate and 2 days before them flashed like the windows of a courier train. We were just discussing the next message of the President of the Republic of Belarus, with which the dad addressed the nation (specially postponed for this from April to August), as he has already issued
two hour interview
to a very specific, with a rotten smell, journalist from Ukraine Dmitry Gordon, in which he praised himself and Putin (and Putin more often) and scolded all Ukrainian presidents, including the current one. It's kind of strange, you must admit, starting from the choice of media and ending with the content of the content.
In Russia, scandalous
news
about the fighters of PMC Wagner, where they were going and why, and whether the dad would give them to Ukraine or not, as on Friday morning a scandal erupted that immediately eclipsed all the previous ones. The journalist of "Komsomolskaya Pravda" Alexander Kots somehow suspiciously dug out in time that behind this provocation it was not even the FSB of the Russian Federation that was hiding, but the ears of Ukraine and its special services were sticking out, which organized a classic operation "under a false flag", surpassing even their teachers from Langley than forced to respect themselves. Although the handwriting shows that it was the specialists from Langley who worked, this level of cover is clearly not available to any home-grown Ukrainian "knights of the cloak and dagger".
Over the years, we have become accustomed to the fact that the SBU cannot boast of anything outstanding, but here is an operation that left three presidents in a fool at once, including its own. It is still not clear whether Zelensky knew about the impending provocation or not, and how, after that, one should assess his readiness to consecrate the past elections with his presence and the request to transfer captured "war criminals" from Wagner to Ukraine. But the fact that the daddy got caught up in this is a fact. And even to Putin, the SBU threw up problems, forcing him to puzzle how to react to the demarche and anti-Russian attacks of its Belarusian counterpart.
It would seem that such a success, but somehow all Ukrainian media, not to mention foreign ones, reacted with a suspiciously sluggish reaction to it. This news was immediately picked up only in the Russian Federation, which is again strange. International scandal and silence, which is suggestive. For example, does the Russian Federation thereby give the old man the opportunity to save face and get out of the scandal with the Wagner PMC with minimal losses? During this time, the dad has already spoken for three life sentences, but if the Turkish sultan was forgiven for the downed plane and the murdered ambassador, then why can't the dad be forgiven for stupid chatter, especially since Moscow has no other choice. Or Alexander Grigorievich, who is faced with a fact either with us, or for scrap, or it is not clear who, it is not clear when, with what prospects are not clear. Therefore, I fully admit that Moscow could lend a bridge to daddy to save his business reputation by organizing a controlled drain of dosed information from its own special services through the KP journalist. Why not? Very much in the spirit of asymmetric Putin.
All opponents of Putin could get used to the fact that he never makes reckless and abrupt moves, which compares favorably with his Turkish and Belarusian counterparts. Those, like twin brothers, in similar situations behave in the same way, like elephants in a china shop, lavishing threats that then have to be answered. Therefore, one should not be surprised at the behavior of the President of Belarus, in this situation he is no better than Erdogan, and even worse, because our brother is by blood, and we had the right to count on him.
In this statement, the word "were" is especially important. They could count, but after what he said, no longer. And what was Putin to do in this situation? Endure and forget? Or watch Belarus sail off to the West? It is clear that no one is waiting for my father there, but the territory will definitely come in handy for our enemies, and a place has already been prepared for her in the "Lublin polygon". Such a credible place, an outpost of Poland on our western borders, from where they can still do a lot of nasty things to us, starting with the Yamal-EU gas pipeline and ending with the Belarusian military-industrial complex, imprisoned for the Russian Federation. Therefore, Putin did not have much choice here, what to do with his father. Of course, save!
Turkish experience teaches nothing
So it was 5 years ago with his Turkish counterpart, when for the first time since 1949, since the formation of NATO, the bloc's plane shot down a Russian military bomber carrying out a combat mission under its own flag. Then Erdogan decided to go all-in and demonstrate to Putin his coolness. And he demonstrated. It reminded me of a cowboy who shot himself in the foot. And what have you achieved? The cartridges were real ...
But then Putin still gave him a chance to drive off beautifully. Prior to the announcement of Prime Minister Davutoglu about the destruction of the Russian Su-24M by the Turkish Air Force, Russian media were still actively spreading reports that our plane could be shot down from the ground. And who knows these "barmaley", where did they get surface-to-air missiles, maybe Ukraine supplied? And what will become of her. Well, Putin didn't need a confrontation with Turkey. But Erdogan had a will of steel, and it started:
"Shot down with an air-to-air missile on my personal order, and so it will be with everyone who flies into our airspace!"
Well, and what has not a person's life, one asks - a good house, a good wife, what else is needed to calmly meet old age? But no! And I have always said that at the current political freak show, the only figure of equal caliber to Putin is Recep Erdogan. He has also been in power for almost 20 years. He also did a lot for his country. The only trouble is the craving for demonstrative actions and demonstrative actions. I'm even ready to die - but beautiful. With a saber bald. More precisely, with a scimitar ...
And it almost died, NATO then froze, leaving the imprudent Sultan alone with the Russian Aerospace Forces. And Erdogan freaked out, falling into a two-day stupor, then his premiere had to take the rap for him. Yes, Erdogan played for high stakes then. Yes, I bluffed. Forgetting that this is possible with anyone, but not with Vladimir Putin! It is foolish, you know, to rush with a saber against German tanks, or rather, with a yatagan against the "Armata". How it ended, you know. Then the Turkish scythe found on the stone. On a Russian stone ... And then the Sultan did not get off with tomatoes.
A victim of manipulative behavior
Lukashenko, on the other hand, is a mirror copy of Erdogan, they have the same psychotype, they are both very impulsive, ambitious and reflexive, which makes it easier to manipulate them if desired, turning them into victims of reflexive control, since their reactions are easily calculated and they can be controlled by pressing one or another a button. That is what the SBU demonstrated in this case (we say SBU, we understand Langley).
In this whole story with the Wagner PMC, the following fact is especially remarkable, to which not everyone paid attention. Specialists from the SBU, unwillingly, by their actions confirmed Putin's words that the Russian Federation and its power structures have nothing to do with such private military companies, which act at their own peril and risk, pursuing their private, sometimes narrow-minded, sometimes misunderstood as public, personal goals. This time, too, Putin was confronted with the fact that his people were on the territory of the Republic of Belarus in order to carry out certain specific tasks outside the external contour of the Russian Federation. This indirectly confirms the fact that in the Donbass the people who ended up there in the ranks of the LPR militia did not carry out Putin's personal order, but acted at their own peril and risk, obeying their personal ideas about good and evil. By the way, from the documents published by the KP it is clear that 33 heroes went abroad to perform not even military, but security functions, which finally buries the image of mercenaries - "wild geese", although all of them had a military past.
And don't be worried about their fate. Wagner PMCs are good as a bargaining chip and an element of pressure on the Russian Federation as long as they are in the KGB RB pre-trial detention center. As soon as (and if, God forbid) their dad hands over to Ukraine, he will immediately lose his main trump card - there will be nothing to blackmail, Ukraine will continue to blackmail, and dad will turn into a Judas-traitor who stuck a knife in Putin's back. Does dad need this? It is clear that no. Therefore, there is no need to worry about the fate of 33 heroes. The dad will return them, as soon as the wave of opposition protests in Belarus, expected immediately after the elections, comes down (and now, due to the circumstances that have opened, most likely even earlier).
All this is well understood by Putin. The bargaining is just going on. Old Man went for broke and went with trump cards. But in the buy-in, and Putin knows it, there is nothing. And dad knows this too - he will be hanged on the very first tree as soon as he lies under the West and gives up part of the powers to the opposition. The West does not need Europe's last dictator. Only the Kremlin needs it. The main thing here is not to overdo it with the demands, then the Kremlin will no longer need him, they will include plan "B" - replacing the dictator with a puppet controlled by the Russian Federation. And the father's plan "Favorite dictator and his son Kolya" will collapse along with the father's head. From the very beginning it was sewn with white thread - RB is not feudal Asia and here power is not inherited.
But Lukashenka is not at all our main problem, because Lukashenka come and go, but the people of Belarus remain. Like the peoples of Kazakhstan, Ukraine, Moldova, Georgia, Armenia, all our Central Asian republics, Azerbaijan and even the Baltic states, have you forgotten anyone? Only with the Turks we have nothing in common, only common interests, which have now temporarily coincided.
Kremlin's choice
But back to our rams. More precisely, one of them - Belarusian. To all people pathetically wringing their hands in anticipation of the results of the past elections, and asking how long we will endure this Judas, I suggest just listening to this video, since it is not great.
This is the Russian political scientist Oleg Bondarenko. I emphasize once again - Russian! Listen carefully - isn't he right? We must be aware of simple and obvious things - sooner or later you have to pay for everything! And for the alliance too. And those who do not want to pay will get another Ukraine, only now in Belarus. Want to? There are no free cakes. Everything has a price. And peace and tranquility on our borders - too. I am not sure that the cost of maintaining the Russian army is cheaper. Although I do not deny that it is the army and the navy that are the only guarantors of our sovereignty and well-being, allowing us to conduct an independent external and internal
policies
.
Have you listened to Bondarenko? Now tell me, what choice does the Kremlin have? Not recognizing elections? So, what is next? Where are the pro-Russian candidates for the post of President of the Republic of Belarus? Something I don't see them there. But the line has already lined up from the pro-Western. And whoever pays, as you know, calls the tune. But Russia is not ready to pay for its allied relations. Is it any surprise that the former allies are changing course and declaring a multi-vector approach, trying to maneuver between the hammer of the Russian Federation and the anvil of the West. They just have no other choice, we did not leave them this choice. So why take offense at the daddy, who has gone all out and has already reached the point of open blackmail? Russia deliberately renounced "soft power", concentrating on "hard" power, strengthening the army and navy, leaving the internal contour of the post-Soviet countries to the external one. We renounced our interests wherever possible, starting with the Baltic States, Georgia, Armenia, Moldova, Central Asian republics, and ending with Ukraine and Belarus. The Russian Federation is losing its outskirts, explaining that there is no money for everything. But our enemies have them. They know very well and remember that he who sows the wind will reap the storm! This is an example of our short-sighted reckless policy (going from one extreme to another).
Even China, we have to pay extra for the fact that it buys our gas. I am already silent about Turkey - the sultan simply twisted our hands with the Turkish Stream, which is now idle, with the construction of the Akkuyu nuclear power plant, and with the purchase of our S-400 Triumph, which he immediately handed over to the Americans to study its weaknesses for possible counteraction. What can I say, even if Serbia refused to buy our S-400 air defense systems in favor of Chinese counterparts just because they are cheaper. Those are allies! And why is Belarus worse? At least he does not give his planes to the Americans for testing. Yes, she feeds herself at our expense, but what should she do if she does not have her own resources and has nowhere to take? Poor country, but with a very proud president. And this factor must also be taken into account. Old Man is not Putin at all! Another psychotype. Yes, Putin is quiet against his background. He does not like publicity and ostentation, clearly weighed down by this. But Alexander Grigorievich blooms like a May rose under the rays of spotlights. And this moment can even be used for your own good. What Putin did now, although the sediment, of course, remained.
Summary
Erdogan in 2015, it seems, foresaw everything, did not take into account only one point that Putin does not know only one thing - to lose. For which he paid. What will Lukashenka pay for his long tongue, we will see in the near future.