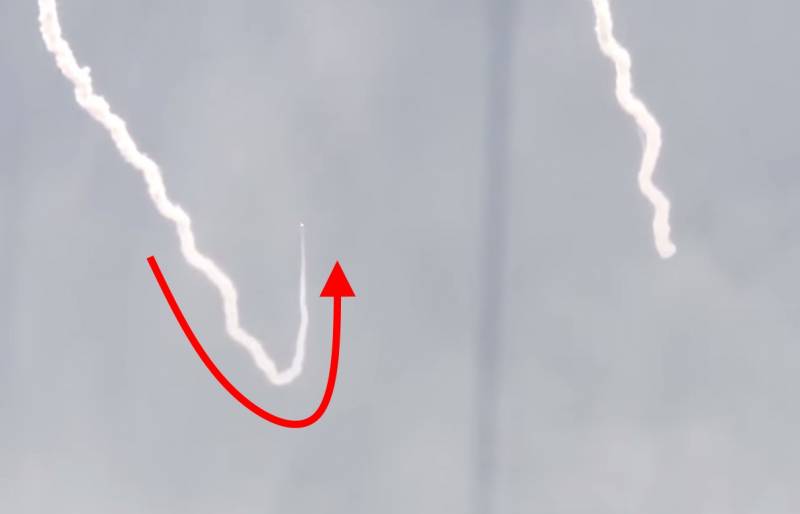 Western social media users were surprised by the recent exercises that took place in Russia. They noticed that the Russian missiles fired from the Iskander-M OTRK changed their flight trajectory and made an unusual maneuver.
It should be noted that on August 5, 2020, in the Astrakhan region at the Kapustin Yar training ground, during a special operational training session, the military personnel of the Air Defense Forces launched a massive missile strike by the Iskander missile system against the targets of the simulated enemy with the fire support of the Tornado-S MLRS of colleagues from the Southern Military District. The video from these exercises was posted on the Web and it was it that attracted the attention of the public from Western countries.
Shown is the simultaneous launch of two Iskander-M tactical ballistic missiles. I noticed that the projectile changed its trajectory incredibly (having made a maneuver of almost 90 degrees)
- wrote the user kimo dial, providing a screenshot and video to his post on his Twitter account.
His readers commented on the post.
The missile from the Iskander insanely maneuvers, demonstrating overcoming the missile defense system
- drew attention to Plutonium General
This is not Iskander. This is a guided munition MLRS "Smerch"
- considers the user SwankyStas.
Nothing new was demonstrated here, similar was shown more than a year ago
- says Hans Schmulke.
Curious when 9M723 will be used as an air defense? All guided high-precision percussion systems provide interception capability if programmed
- Karl Pfeffer (Mīrzā) suggested absurdly enough.
Interesting maneuvering, this is the first such scene I have seen
- noted Bᴇɴ A отметил.
Not 90 degrees at all, shooting perspective can be misleading!
- sure the user Dr.Strangelove2.0
This is common knowledge and a simple reading of Wikipedia might provide you with this information
- Vincent de Bruijn summed up, pointing to the owner of the post with a link to the Iskander OTRK in the Internet library.