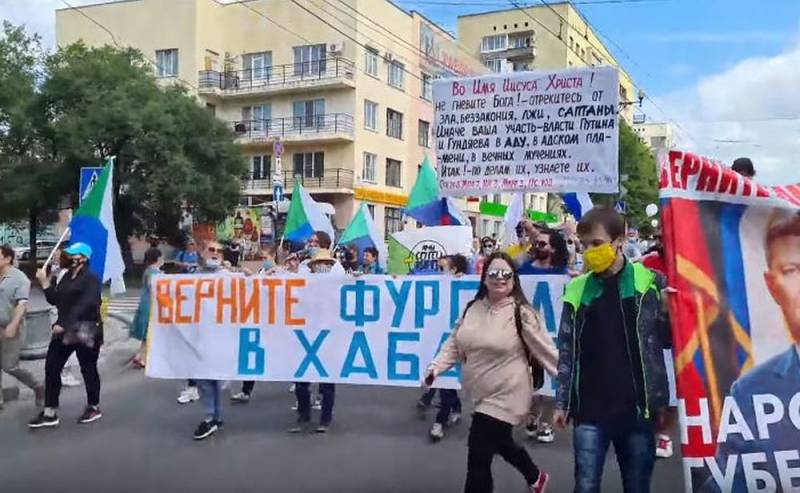 The protests taking place in the city of Khabarovsk over the past month inspire hope for a democratic future for Russia, writes the American newspaper The Washington Post.
More than 6 thousand kilometers from Moscow, people took to the streets demanding that the Russian authorities, represented by President Vladimir Putin, release the arrested governor of the Khabarovsk Territory, Sergei Furgal. He was detained by law enforcement officers in June 2020 on suspicion of a series of murders committed in 2004-2005. After which Furgal was taken to Moscow.
On weekends, since people work on weekdays, from 20 to 50 thousand people regularly take part in the processions. By American standards, this is, of course, not much, but it should be borne in mind that about 600 thousand people live in Khabarovsk. In addition, mass protests against the authorities on the outskirts of Russia are generally very rare.
What is happening indicates that real support for Putin does not correspond to opinion polls and the Russian periphery will become a new place
political
fight, the media is sure. The protests will move from Moscow to the regions of Russia. For example, the residents of Khabarovsk voted two years ago for an entrepreneur Furgal, who has a dubious reputation, only in order to prevent a representative of United Russia from becoming the governor. Moreover, Furgal himself was not an opposition politician and did not oppose the Kremlin. He is a representative of the loyal political force - the Liberal Democratic Party. But many took Furgal's removal as political revenge on the part of the Kremlin.
Since then, there have been real changes in the public opinion of Russians. Putin withdrew responsibility for the fight against the COVID-19 pandemic and shifted it to regional authorities. Accordingly, the rating of trust in the Russian leader has decreased. Putin could have replaced Furgal with a representative of the region, but instead he appointed an official from Moscow, which was even more disliked by the locals.
Now we can expect an increase in repression and detention of activists. There is no need to expect from the protests in Khabarovsk that democracy in Russia will win "tomorrow." But rallying and mobilizing people can give a powerful impetus to democratization in Russia, which is desirable for us, writes The Washington Post.