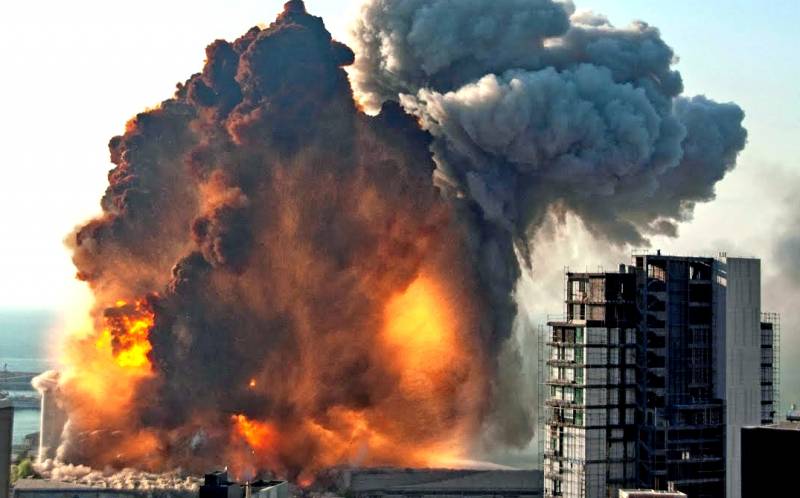 A short video of the explosion in the port of the Lebanese capital was published on the Web. A CCTV camera impartially recorded everything that happened on August 4, 2020 in Beirut. The storyboard allowed us to establish step by step how the dramatic events developed on that ill-fated day.
The video shows that at 17:35 local time smoke appears on one of the port's berths. This is the beginning of a fire at a warehouse where ammonium nitrate was confiscated more than six years ago. Gradually, the area of ​​fire has increased, as evidenced by more intense smoke. At about 18:20, a powerful explosion occurs, accompanied by a mushroom cloud. He destroys the port and the adjacent part of the Lebanese capital.
The shots clearly show flashes in the epicenter of the fire. It is clearly visible how the smoke changes color and an open flame appears. The propagation of the shock wave is shown in detail. It sweeps away everything in its path. Various buildings and structures are destroyed, various structures fall and glass crumbles. The camera also cannot withstand the force of impact.
As a result, about 140 people die, there are tens of missing persons, and about 5 thousand receive injuries of varying severity. Several hundred thousand people are being displaced. Serious
economic
damage estimated at $ 5 billion.
Lebanese authorities said 10 firefighters who tried to extinguish the fire were reported missing. This is not surprising, because
the force of the explosion was
about 400 tons in TNT equivalent. The part of the quay where the warehouse was located simply ceased to exist. A funnel has formed in its place.
It should be noted that the grain storage next to the warehouse took a significant part of the blow. In fact, it saved many lives and protected the city. However, the grain storage of the state of Lebanon was stored in the elevator, which was destroyed. Now the Lebanese are on the brink of a humanitarian disaster.