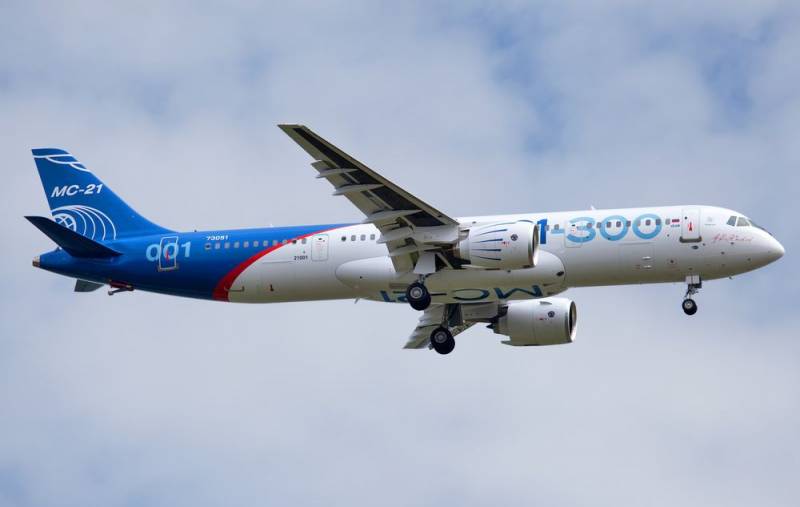 The promising Russian short-to-medium-haul narrow-body passenger aircraft MC-21-300 has advantages over similar products from Boeing and Airbus, writes the British specialized edition Simple Flying.
Recently from Russia it was reported that the newest MC-21-300 airliner equipped with a domestic engine will take to the skies by the end of 2020. The Russians now have their own aircraft engine - PD-14. This will allow the UAC to launch serial production of such aircraft. They will seriously compete with the Boeing 737 MAX 8 and Airbus A320neo airliners in the global aviation market, with which they find themselves in the same market category.
MC-21-300 made its first flight in May 2017. Then it was powered by imported aircraft engines. But Russia has taken a course towards import substitution so as not to depend on other countries.
Experts believe that this will allow Russians to stop fearing possible delays in the supply of spare parts, take control of the entire component production chain and increase the attractiveness for customers. In addition, Russia supports its manufacturers and wants to enter the aviation market with its products, offering an alternative to aircraft from other countries.
Undoubtedly, the MC-21-300 will be in demand not only in Russia, where the state-owned airline Aeroflot has already confirmed its strong desire to buy 50 such aircraft and an option for another 35 aircraft, but also in other countries. Especially in those who fear sanctions from the West.
The Russian airliner can take on board up to 211 passengers, which is more than in similar configurations for its main western competitors (Boeing 737 MAX 8 and Airbus A320neo), and without sacrificing convenience. It even has more personal space for passengers than the Airbus A320neo, so the MC-21-300 will harmoniously fit into the niche of the most popular airliners.