The content of any large data center is not cheap pleasure, and the functioning of many large companies without them is impossible. A significant cost item for maintaining data centers is the cost of electricity, the lion's share of which is consumed by a powerful cooling system. Without it, server equipment will inevitably overheat, and therefore a significant decrease in operating efficiency and subsequent irreversible damage.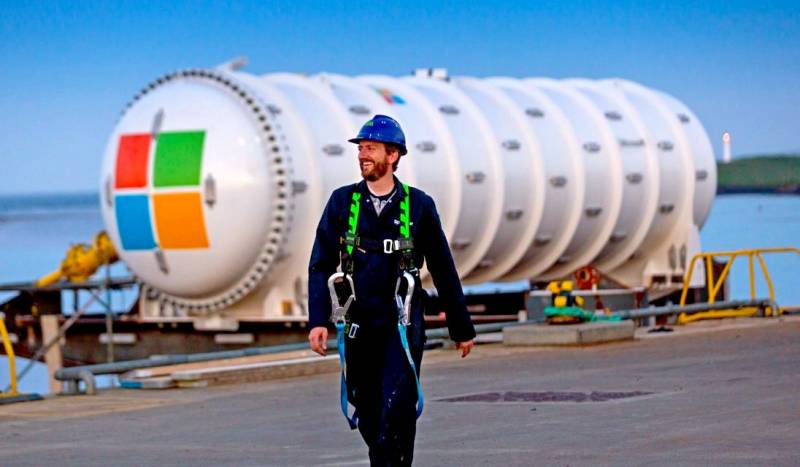 That is why large companies are looking for various ways to reduce these costs, often this is associated with large one-time financial injections, which in the long run reduce the need for equipment for additional cooling. For example, Facebook maintains its data centers in Sweden, near the Arctic Circle, where the cold ambient air does an excellent job of maintaining a temperature acceptable for the functioning of the equipment. Microsoft has decided to go even further.
As part of a project called Project Natick, the possibility of flooding equipment in the ocean was first tested in 2015. The experiment was successful, the installation worked on the ocean floor for 105 days. Now Microsoft went further, and lowered to the bottom of the sea off the coast of Scotland a data center at 27,6 petabytes, which fit in a 12-meter steel capsule. The experiment is designed to find out whether seawater is able to effectively remove heat from the equipment of the data center. In the future, it will be possible to connect turbines or tidal energy systems to the system to generate energy. If successful, Miscrosoft intends to do the same with the rest of its data centers.
Whether other companies will follow the experience of Microsoft, as well as how the mass immersion of heat sources will affect the environment is still unknown.