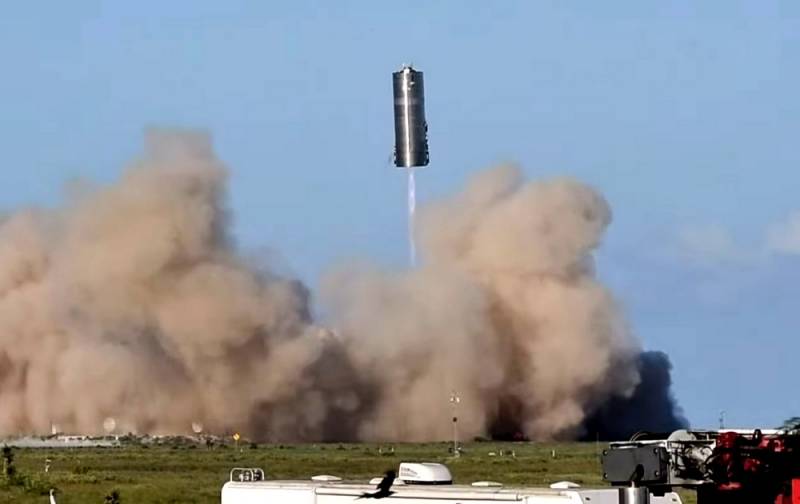 The fifth full-size prototype of Elon Musk's "Martian" spacecraft Starship SN5 has successfully completed its first "jump" today. As part of the current flight tests, the device was able to rise to an altitude of 150 meters, and then, shifting to the side, make a soft landing on another platform. Previously, SN5 has successfully passed cryogenic and fire tests.
Recall that a similar result was achieved only with a smaller version of the promising ship called Starhopper. Then four full-size prototypes were "lost" at different stages of testing, never reaching the flight.
Starship SN5 passed its first flight tests with one Raptor methane-oxygen engine. In the final version of the second stage of the Starship & Super Heavy complex, there will be six such units.
During takeoff, SN5 tilted heavily and began to shift to the side. However, the Raptor with a deflected thrust vector corrected the situation in a few seconds, and the rocket flew almost vertically. At the top point, the device hovered for a few seconds and began a smooth descent followed by a successful landing.
It's worth noting that SpaceX has high hopes for its current development. It is assumed that the Starship & Super Heavy rocket complex, consisting of two reusable stages, will be able to launch more than 100 tons of cargo into near-earth orbit and will replace the Falcon LV. In addition, the second stage of the Starship "super-rocket" is also a manned and cargo spacecraft, which NASA and Elon Musk intend to use to explore the Moon and Mars.
The first full launch of the rocket is tentatively scheduled for 2021. At the same time, SpaceX intends to use the device for suborbital commercial missions. In this case, Starship, in a passenger configuration, will fly between major cities in different parts of the planet and land on offshore platforms in a few tens of minutes.