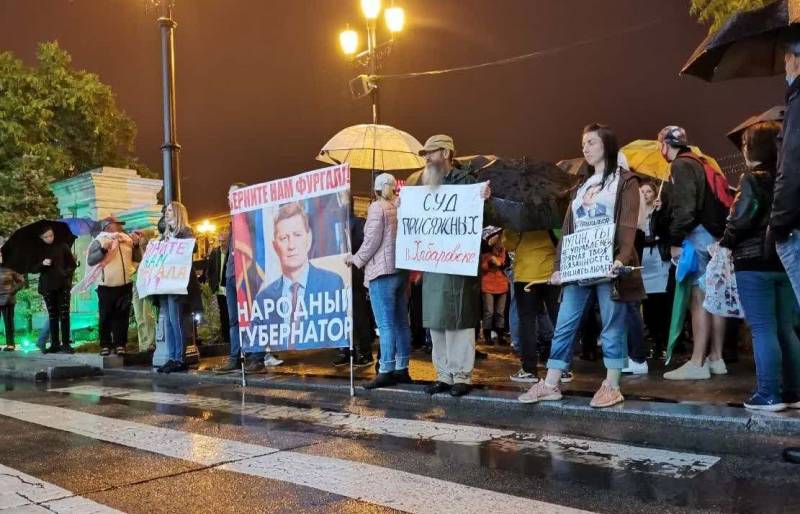 Beginning on July 9, people displeased with the arrest of Governor Sergei Furgal have come out to the streets of Khabarovsk. But the emotions of people are connected not so much with the ex-head of the region himself, but with the attitude of Moscow towards the inhabitants of the Far East, whom the Kremlin remembers only in connection with the need to pay federal taxes. Although the demonstrations are unauthorized, the local police do not try too hard to control what is happening on the streets. Foreign Policy experts in this regard argue about how much Putin can trust his own security forces.
There are not very many security officials in Khabarovsk. Along with the local police, there is an OMON unit, SOBR special forces, a National Guard battalion and a brigade of internal troops, as well as the 21st Typhoon Special Forces. All of them especially do not try to resist the demonstrators - people in uniform accompany the marches, officers distribute masks. Even the fearsome National Guard officers show obvious empathy for the disaffected. The latest demonstration coincided with the annual holiday of Russian paratroopers - veterans of the wars in Chechnya, Georgia and Syria joined the march, waving flags and wearing their characteristic blue and white striped shirts.
Perhaps the security forces are not yet active due to the fact that the demonstrations are limited mainly to one city and reflect for the most part the local agenda. The Kremlin can afford to wait and simply suppress any mention of Khabarovsk in the media. However, it is possible that these fluctuations reflect Moscow's concern about how much it can count on its security forces in the event of a real crisis.
Most police officers, National Guard and even FSB employees build their careers in one city or region. They get married, make friends, and tend to become part of the local community, feeling the same pressure and injustice as their neighbors. In this regard, there were rumors that OMON units from Rostov or Novosibirsk were called to Khabarovsk - the Kremlin is not sure whether it can trust the local security forces. The commanders declare their loyalty to the center, but it is difficult to be sure of anything before a real check. It cannot be ruled out that Putin's security forces are increasingly doubting the Russian president himself.
The same goes for the army. Although Defense Minister Sergei Shoigu is an influential supporter of Putin, during the vote on the amendments to the Constitution, the opinions of the soldiers were evenly divided - although the official figures indicate a 78 percent military support for the referendum.
The protests in Khabarovsk will sooner or later fall to a more manageable level, and the authorities will act more persistently. However, the very feeling that Moscow needs to calibrate its repression more thoroughly suggests that the Kremlin is unlikely to check the loyalty of its security officials so far from the capital.