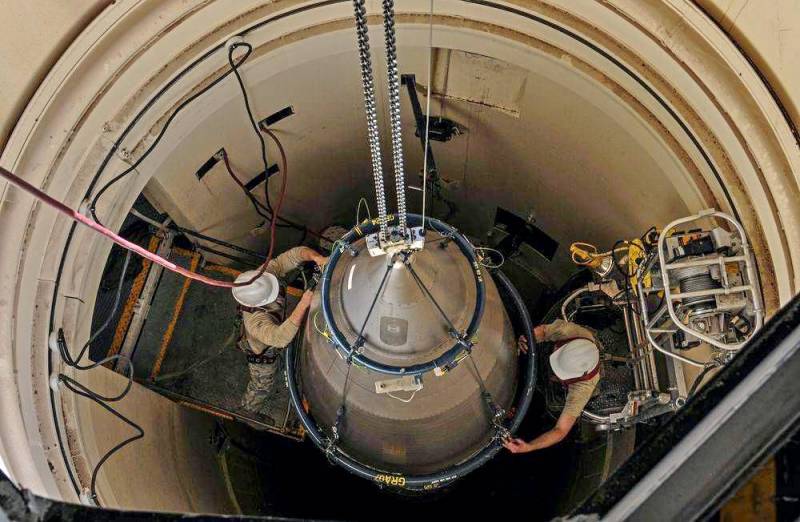 The US military and power engineers admitted that accidental launches of land-based nuclear missiles are possible. Now they are asking the US Congress for money to modernize the strategic arsenal.
It became known that an unclassified but closed five-page report for Congressmen was prepared in May 2020 by the Pentagon and the US Department of Energy's National Nuclear Security Administration (responsible for developing nuclear weapons). The document outlined a picture of a possible nuclear apocalypse, if funds are not urgently found for a new development program. Both departments confirmed that there is a real danger of an erroneous launch of intercontinental missiles in silos, a few minutes after receiving a warning of an enemy attack.
The document also spoke about the program to develop a new nuclear warhead W93, which will cost taxpayers $ 14 billion and was called a "new weapon." This warhead will need to create a new carrier that will take off from submarines. They did not forget about new nuclear weapons for strategic aviation.
According to some experts, if the military and power engineers succeed in convincing the US Congress, then they can deliberately leave vulnerabilities in the future, for the elimination of which money will again be required after a while. In fact, this is blackmail, since in the last three decades there have been no serious incidents at all.
It should be noted that this report coincided with the statements of representatives of the US administration that the White House is considering the feasibility of resuming nuclear tests. The last time, the 1054th in a row, the United States conducted a test of a nuclear charge on September 23, 1992 at a test site in Nevada. It has become a symbol of the official end of the Cold War.
Thus, Washington decided to "send a powerful signal to Moscow and Beijing" that the Americans are dissatisfied with the old agreements on strategic stability and security, as well as limitations on strategic offensive arms. The US does not hide that they want to "figure it out for three" and involve China in future agreements with Russia.