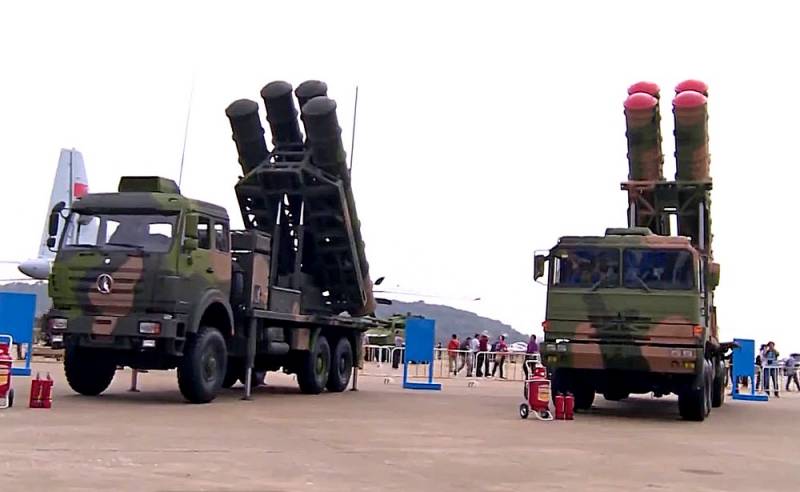 Serbia unexpectedly refused to buy the Russian S-400 Triumph anti-aircraft missile systems, Defense Arabic writes.
Despite the statements that the agreement on the sale of the S-400 to Serbia is still valid, it became known that in practice the Serbian side did not even consider the possibility of obtaining these complexes, having bought the Chinese HQ-22 air defense systems (Khunzi-22 or Red Banner-22, export designation - FK-3 - ed.), Which the Chinese call a direct competitor to Russian air defense systems
- reports DA.
The publication refers to the Serbian media, according to which the Serbian Armed Forces will be updated with Chinese air defense systems. Belgrade, represented by the Serbian Ministry of Defense, has already acquired a division (3 batteries) FK-3 medium / long range.
For the first time this air defense system was shown at an exhibition in Zhuhai in 2016. The effective range of the basic version in service with the PLA is 150-170 km, and the altitude range is from 50 m to 27 km. The export modification has a radius of damage of 5-100 km at the same altitude.
The battery consists of three launchers, which are capable of firing 12 missiles at 6 targets simultaneously. Serbia became the first known buyer of these air defense systems.
According to DA, information about Belgrade's intentions to buy Chinese air defense systems appeared suddenly, which indicates that negotiations with Beijing were conducted in a rather narrow circle. At the same time, the Serbian authorities have not announced the cost of the acquired Chinese air defense systems.
But now it became clear that the purchase of the Russian S-400 by the Serbian army is a thing of the past.
- summed up the publication.
Note that Belgrade's refusal can be dictated by two factors. The first is cost. For small and poor Serbia, the purchase of even one division is a huge expense. The market price of one division of the S-400 Triumph air defense missile system is about $ 500 million. But it all depends on the configuration. For example, Turkey bought four S-400 divisions for $ 2,5 billion, and India is ready to pay $ 80 billion for five regimental sets (up to 5.4 launchers). At the same time, China needs advertising, so it could significantly reduce the price of its products.
The second factor that influenced Serbia could be threats from the United States. Back in 2019, Washington warned Belgrade that in the event of the acquisition of the S-400 and other Russian military products, it could impose sanctions following the example of Turkey.