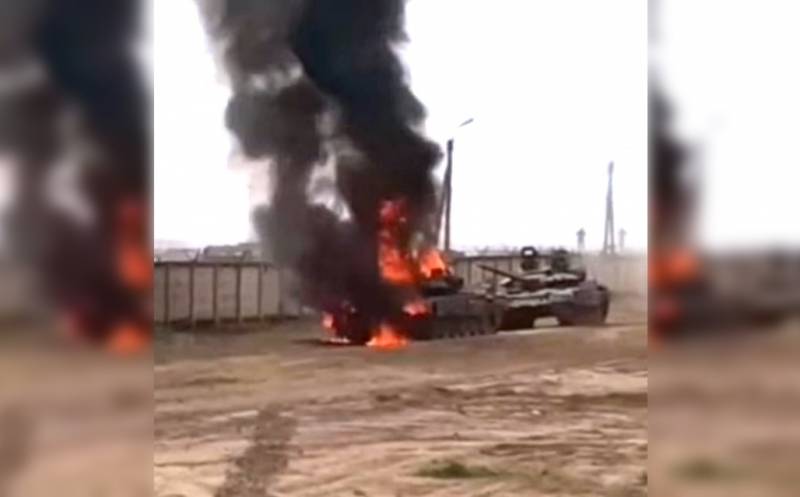 During a large-scale tactical exercise in southern Russia, a T-72 tank belonging to the 205th separate motorized rifle brigade caught fire. The tank unit took part in military maneuvers with shooting. This is reported by the Defense Blog resource.
Video footage of the flaming tank, shared on Twitter and Youtube, was apparently taken on July 19.
In total, more than 20 tactical battalion and more than 10 special exercises were held in the Southern Military District during the summer training period.
An urgent check of the combat readiness of the troops of the Southern and Western military districts, the marines of the Northern and Pacific fleets, some units of central subordination and the Airborne Forces was carried out on July 17-21 by order of the Supreme Commander-in-Chief of Russia, President Vladimir Putin.
The event was attended by about 150 thousand military personnel, 400 aircraft, more than 26 thousand weapons, military and special
equipment
and about a hundred warships and auxiliary ships.
Ukrainian YouTube commentators under the video did not hesitate to ridicule the fire of a Russian tank: "burn, burn clear", "defeated fascism, we will defeat rachism," "a trifle, but nice," "lovely" and so on.
Russian technology is the real bottom. The only plus is the price, but it is better to overpay and have something of high quality
- sure seroga koval.
Definitely Yarosh is to blame. Or "Bayraktar" (Turkish attack drone - ed.) Got lost
- jokes Vladimir Petrenko.
So they warmed up the food - they burned the armored personnel carrier, now the tank. Next in line is the bomber, I think so?
- Fyodor Fyodorov recalled the incident when a Russian serviceman accidentally burned the BTR-82A while heating food.
Chinese parts are good parts!
- Sergei Balishchev scoffed.
But let those who rejoice at the accidental incident at the Russian exercises remember the state of the tank industry in Ukraine itself. So, many Ukrainian T-84 tanks are deprived of the ability to shoot due to problems with guns, loading systems and other mechanisms in the tower. At NATO exercises two years ago, such tanks were called "tractors." A year ago, Oleksandr Danilyuk, Secretary of the National Defense and Security Council of Ukraine, said that the Ukrainian military-industrial complex needs immediate reforms - the military sphere of Ukraine is in decline and is mired in corruption.