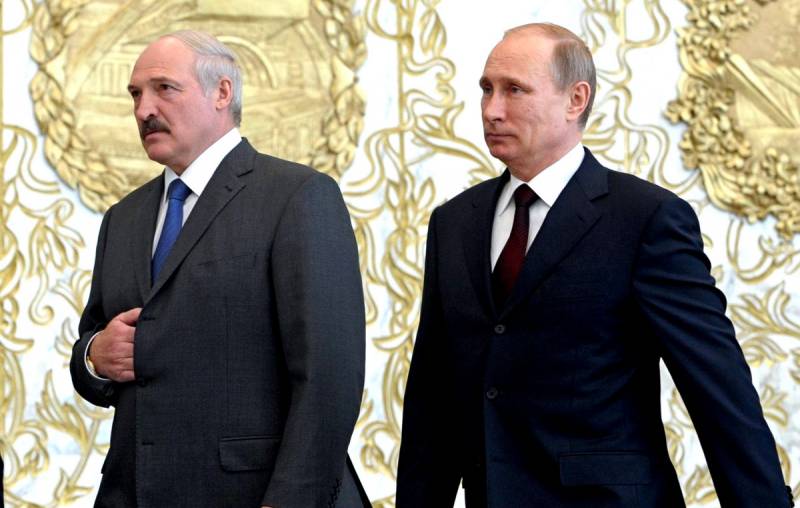 Continuing for several days in a row to remain almost the main
news
In the domestic information space, the detention of 33 Russians in Belarus is still being discussed by our media and various experts in a relatively calm and restrained tone. The majority of those who speak out on this topic are inclined to consider what is happening as another "father's vybryk", one of the many that have become, alas, his anti-Russian demarches. Simple explanations are certainly good ...
However, if we do not intend to be content with them, but want to get to the bottom of what is happening, then first of all we will have to admit the obvious: everything here is far from being so unambiguous and straightforward as it might seem at first glance.
These are not games anymore
Perhaps the main problem in assessing the actions of Alyaksandr Lukashenka (and there can be no doubt that everything that happens is his initiative) is that, whatever one may say, but the actions of the Belarusian leader, who is diligently spinning hysteria around " Russian militants ", are not just hostile towards our country much more than all the similar steps he had taken earlier. They are categorically illogical! Moreover, they are frankly suicidal. This is if we consider the situation within the framework of the usual categories of relations between Minsk and Moscow, as well as events in various countries of the "post-Soviet space". The state led by him in front of everyone is not just moving smoothly, but rather rapidly flies in the direction of the very, that neither is the classic "Maidan" - a textbook "color revolution", prepared and directed by Western "champions of democracy" according to the scenario "falsification elections ".
The scale of popular protests, for the first time in many years, expressed with an unprecedented openness and mass character for Belarus, is absolutely unprecedented. As a matter of fact, the fire is already burning - all that remains is to pour "gasoline" into it from the heart and there is no doubt that experts in such actions are not just ready, but are in positions in the same Minsk. The only state that Lukashenka, in principle, could count on if the situation develops according to the worst scenario is Russia. And now, instead of, even if for a while, even if following not extremely dubious in his case "brotherly feelings", but the elementary instinct of self-preservation, curtail Russophobic rhetoric for a while and take at least half a step towards Moscow, the "father" publicly brings charges against it , which may well serve as a pretext for starting a war.
At the time of this writing (on the evening of August 2), all hopes that Alexander Grigorievich was "darkened", and the extremely ugly story with the massive and absolutely unreasonable detention of Russian citizens will end with a "happy ending" that will allow both countries without losing face , pretend that nothing actually happened, smashed to smithereens. Alas, Dmitry Peskov, who expressed hope on behalf of the Kremlin that "the Belarusian special services will figure everything out and let the Russians go," turned out to be useless as a visionary. The Minsk Themis showed the maximum severity towards our compatriots - at the request of the local Investigative Committee and the sanction of the prosecutor's office, they were taken into custody, that is, arrested. In relation to them, in the most complete seriousness, a process has begun, in common parlance called "stitching a case." This is not about accusations of terrorism, as some of our media have already rushed to announce. Investigators and judges "try on" Articles 13 and 2, part 293 of Articles of the Criminal Code of Belarus to the detained employees of Russian private security companies trying to get to new places of work. Taken together, it sounds like "preparing to participate in riots." And "pulls", respectively, for 8 years behind bars - according to local laws, responsibility for "cooking" is no different from punishment for a committed act.
If it comes to retraining from the second to the first part of the same article (and this may well happen), then we will talk about terms of 15 years. An even more unpleasant detail is the desire of the Belarusian side to involve Kiev in this case, where they are already more than actively demanding the extradition of most of the detainees. And obviously not for awarding certificates of honor for strengthening friendship between peoples ...
Pre-election PR? No, political piracy ...
At least a dozen of those arrested in Belarus were declared by the Prosecutor's Office to be "non-existent" and the SBU "citizens of Ukraine" who "participated in the activities of terrorist groups and committed war crimes in Donbass". As far as we know, Kiev presented Minsk to a completely official request for the extradition of not only them, but 28 out of 33 our compatriots in custody. Will he be satisfied? It is difficult to say - especially considering that the list of "militants" was transferred to the Foreign Ministry by the "non-existent" just at the initiative of the Belarusian side: "to check for involvement in crimes". Well, that's where we went to great lengths. Note that Dmitry Peskov's statement that Moscow "does not recognize the Ukrainian citizenship of the detainees" and considers all of them to be Russians, is being ignored demonstratively.
In fact, we are talking about a clearly planned and carefully prepared hostage-taking, carried out in the best traditions of "gentlemen of fortune" flying under the black flag. But the subject of bargaining here is clearly much more weighty than the usual suitcases in such cases, tightly packed with dollar bills. Lukashenko himself does not dare to deal with the citizens of Russia - therefore, he attracts Ukrainian "law enforcement officers" who are thirsty for "Moscow blood" as potential executioners for them. At the same time, it is quite obvious: he personally does not believe in the tales of "another two hundred Russian militants" secretly wandering around Belarus with the most ill intentions. Likewise, in the ravings of his own head of the Security Council, Andrei Ravkov, about "secret camps near Pskov and Nevel", where a whole horde of similar adversaries trains, "learning sniper skills and explosives." Otherwise, the "dad" should have been recognized as hopelessly insane, but this, of course, is not so. Far from it.
Already someone, and Alexander Grigorievich, knows for certain how bad things are in his country with real "pro-Russian forces" capable of at least some kind of consolidated and serious actions. So much so that he had to appoint poor Babariko to the role of the "Moscow candidate", from whom he is the same "Kremlin agent" as, excuse me, from Andrei Makarevich. One hundred percent nationalist and the best friend of the Zmagars. With fake "Wagnerians" - absolutely the same story. And the versions put forward by some that Lukashenka was "disoriented" and "framed" by some of his "pro-Western advisers" who deceived the gullible president with stories about "specialists from PMCs" sent from Moscow to his heart do not stand up to criticism either.
You should not make a naive fool out of Alexander Grigorievich. Before us is the most experienced, as they say, hardened politician with vast experience and absolute awareness of the surrounding realities. His talk about the "innocent soldiers" and the "dirty intentions" of those who allegedly "sent them to Belarus" are just part of the game, undoubtedly started by him. Speaking about the "terrorist intentions" of the detainees, Lukashenka himself acts in the best traditions of terrorists: he simply needed hostages to ensure the pre-election "victory over Moscow", so he captured them. The employees of the private security company would not have turned up, one must think, at the worst, mushroom pickers dressed in camouflage would have come down. It did not come to this solely because of the excellent awareness of the Belarusian special services about the transit routes of some of our fellow citizens, who have rather specific professions, who are forced to fly through Minsk to countries where it is simply impossible to get from Russia.
Now, actually, about the possible scenarios. In fact, Lukashenko accused Russia of attempting a coup d'etat in his own country. And, judging by his actions, he intends to exploit this topic to the end. In principle, further steps in the development of the situation in the current vein may well be the rupture of diplomatic ties and the extreme aggravation of interstate relations. But Alexander Grigorievich, most likely, does not need this.
So,
scenario one
- from the "dad": Moscow, fearing the prospect of extraditing its citizens to the executioners from Kiev, is making really serious concessions. At least in matters of energy supplies. Until the abolition of the "tax maneuver" or other equally large-scale steps that, according to Lukashenka, are capable of ensuring the further more or less comfortable existence of the "Belarusian emirates" at the expense of the Russian budget. Alexander Grigorievich, having "won" the elections, appears before his own people as an almost omnipotent ruler of epic proportions, capable of both preventing confusion and the Kremlin "bending" at its own will. What are the prospects for Russia? It is extremely difficult to express censorship here. In any case, there is no need to speak of any international authority and weight of a country that allows it to take its citizens hostage, and resignedly fulfills the demands put forward.
Scenario Two
- half-hearted: Lukashenka uses the current situation to further whipping up the atmosphere in the country, introducing, if not a state of emergency during the elections and some period after their holding, then something very similar to him. Under the pretext of possible "mass riots", which will certainly be arranged by "sent Cossacks", if not "tighten the screws" to the limit, freedom of assembly, movement of citizens and all other "freedoms" still nominally available in Belarus are limited. In the eyes of the West, at the same time, a cunning "dad" who openly conducts the most real
political
repression, looks like a "fighter against Russian aggression." This, again, in his sincere conviction, will "write off" everything that is happening there now, and even some much tougher things, to which things may well come to, if the people nevertheless take to the streets after a predetermined "will ". Well, and Moscow ... You can make peace with Moscow and then. They will endure! They didn't tolerate that.
scenario third
- the most negative: Alexander Grigorievich really decided to "surrender" the country to the West. Quite a possible option, no matter how incredible it may seem at first glance. After all, some specific firms have methods of persuasion and coercion that even some presidents cannot resist. The examples of Kuchma and Yanukovich (who sincerely believed in Western "guarantees" and almost lost their heads) are proof of this. Again, faced with a choice between the inevitable "Maidan" with absolutely unpredictable consequences and the "civilized" transfer of power to a Western-appointed successor (not Tikhanovsky or Tsepkalo, of course, but at least the same Makei), Lukashenka can "float" ... And why shouldn't the overriding condition for such a deal be a complete break in relations with Russia, moreover, the creation of a situation after which reconciliation between Moscow and Minsk (regardless of the names of the leaders there) will become extremely problematic? In this format, you can expect anything, up to and including the extradition of the arrested Russians (or some part of them) to Ukraine.
I must say that the third scenario today is practically not considered by anyone and is not taken into account. And in vain ... No matter how late it was later. In any case, time will tell, however, there are no good options for the development of relations between present-day Minsk and Moscow.