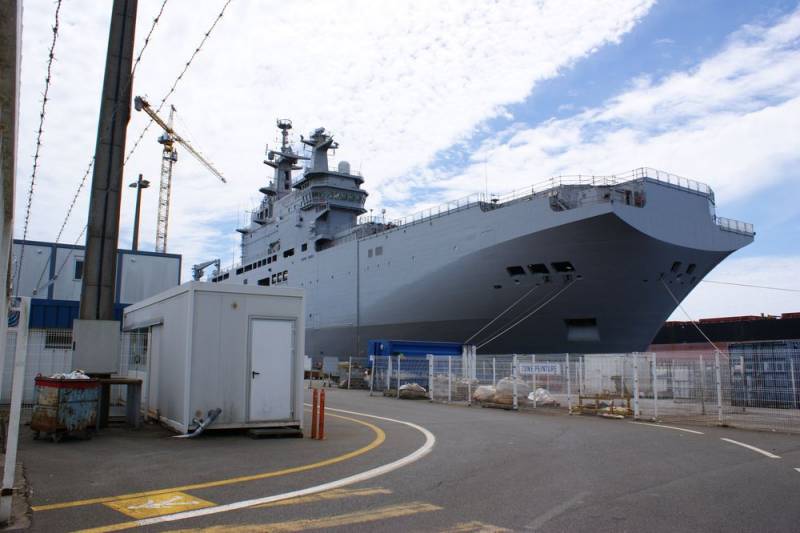 On July 20, 2020, Russian President Vladimir Putin took part in the simultaneous laying ceremony for a pair of nuclear submarines and four large surface ships. Two ships are "analogues" of the French helicopter carriers "Mistral", but Ukraine should not be afraid of them, writes the Ukrainian edition "Apostrophe".
The publication notes that the "master of the Kremlin", being at the "Zaliv" enterprise in Kerch (Crimea), was present at the start of construction of two UDC project 23900 "Priboi" - "Ivan Rogov" and "Mitrofan Moskalenko". At the same time, Putin supervised the laying of ships in several other places by videoconference. In Severodvinsk there are two Project 885M Yasen-M multipurpose nuclear submarines - Voronezh and Vladivostok, and in St. Petersburg - two Project 22350 frigates - Admiral Yumashev and Admiral Spiridonov.
Moscow needs UDCs to ensure a long-term presence in remote areas of the world's oceans. They are full-fledged floating bases and should appear at the disposal of the Russian Navy in 2027. The project itself "on paper" surpasses the French "Mistrals" in all respects. However, the developer, who has never designed such large ships, raises questions, so whether he will cope with the task is unknown. We are talking about Zelenodolsk PKB, which is part of the Ak Bars holding, as well as the Kerch Zaliv plant. In any case, Russian UDCs will not be able to compete even with outdated American counterparts such as the Wasp, not to mention the new ones, such as America, Ukraine is sure.
For Kiev, Russian UDCs could pose a threat if they entered service in the near future. The Ukrainian Navy is weak, but in 2021, the anti-ship missile "Neptune" will appear in service with the Ukrainian military in large quantities. Therefore, the appearance of Russian UDCs near the Ukrainian shores is a mid-term challenge. It is not known whether they will be built at all, whose Crimea will be in 2027, and whether the "Putin regime" will remain in Russia by that time. But now Moscow has shown the world that it is "dangerous for its neighbors" and is not going to give Crimea under any circumstances, the newspaper concluded.