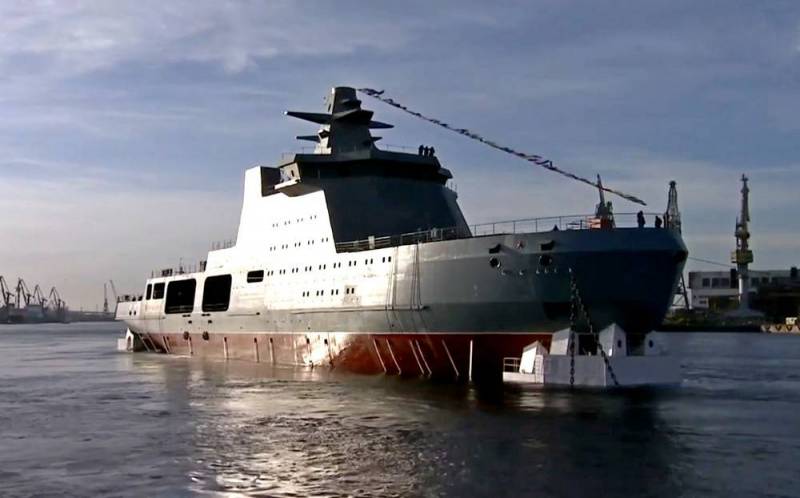 It is not often that the prospect of just one surface ship being commissioned by the Russian Navy can irritate the Pentagon. However, this happened because the ship is very unusual and is intended for operations where the United States has practically no power resources.
Outrage over Russia's activity in the Arctic region was expressed by James Foggo, the commander of the US Navy in Europe and Africa:
They recently unveiled a new icebreaker, Ivan Papanin, which can carry Kalibr cruise missiles. I have already asked this question several times and will ask again: who puts rockets on icebreakers? Some countries put defensive weapons on their icebreakers, but the Caliber is not a defensive weapon.
"Some countries" are Norway with its patrol icebreaker Svalbard and Canada, which ordered the construction of six ships for the same project. The armament of such "combat" icebreakers is relatively modest: the 57-mm Bofors artillery mount and a deck helicopter. It is quite enough to shoot back from polar bears, well, or against whom they are armed.
The United States is doing somewhat worse in this field. The Pentagon has only two outdated icebreakers, which will not give any guarantee that the American fleet will not end up simply freezing into the ice. Against the background of his presidential campaign, Donald Trump promised voters to build "the largest icebreaker in the world", while bringing their total number to a dozen ships.
It should be admitted that Russia, traditionally the leading Arctic power, has far outstripped its competitors. Our icebreaker fleet is numbered four dozen ships. The aforementioned "Ivan Papanin" is of particular interest. It belongs to the ice-class patrol ships of the project 23550 "Arktika" ("Ermak"). In total, there should be three of them in the series: "Papanin" and under construction "Ivan Zubov" and "Blizzard".
The ice class allows ships to break ice up to 1,7 meters thick, while, if necessary, they can operate in the tropics.
"Ivan Papanin" and his brothers combine many useful functions. While serving on the Northern Sea Route, they will be able to work as an icebreaker, and as a tug for damaged ships, and as a real military "patrol". These ice-class ships are armed with 100-mm automatic gun mounts and 30-mm automatic anti-aircraft gun mounts. On board can be placed a Ka-27 helicopter or attack UAVs of a helicopter type, two high-speed combat anti-sabotage boats of project 03160 "Raptor" and an air cushion boat of project 23321 "Manul".
All of the above in itself cannot impress the Americans, but the matter changes the possibility of installing on the icebreaker launching containers of cruise missiles "Caliber" or anti-ship missiles "Uranus". The range of the "Caliber" flight can be from 1500 to 2600 kilometers. If Papanin and his classmates serve anywhere in the Chukchi or Bering Sea, critical US military infrastructure in Alaska, North Dakota and Georgia will be targeted. If, in the future, "Calibers" are replaced by hypersonic "Zircons", it will cause problems for the Pentagon. From time to time, the RF Ministry of Defense organizes demonstration actions, sending strategic bombers Tu-160 and Tu-95MS, equipped with long-range cruise missiles, to the American shores. "Papanin", "Zubov" and "Blizzard" will be able to stay there permanently on a rotational basis.
It is clear that Washington is not happy about this. The Russian Foreign Ministry even had to reassure its "partners" with the fact that cruise missiles would be installed on combat icebreakers only "during a special period." Apparently, the task of the ships of this series will be to prevent such "periods" from happening.