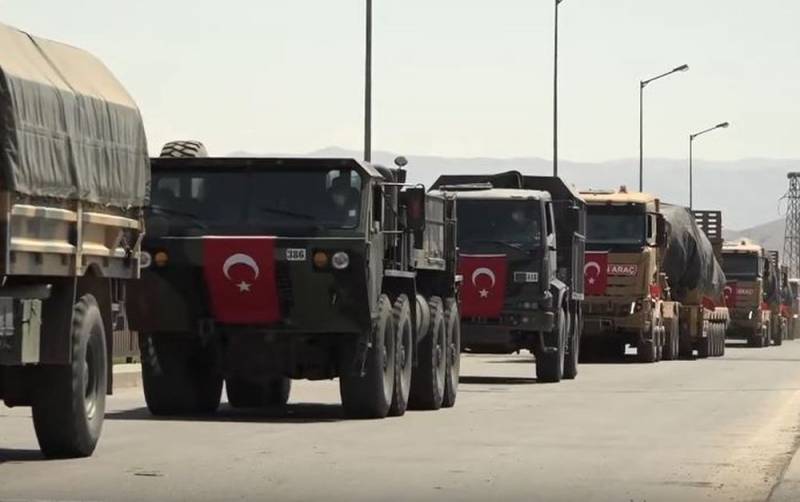 Turkish President Recep Tayyip Erdogan outplayed Russian leader Vladimir Putin. By sending its troops to Azerbaijan, Ankara changed the alignment of forces, "crushed the Caucasus under itself" and strengthened its position in the region, writes the Ukrainian edition of DSNews.
The publication notes that on July 12, 2020, the smoldering Armenian-Azerbaijani conflict flared up with renewed vigor. Ankara immediately, and in an aggressive manner, sided with Baku. At the same time, Moscow only in words took the side of Yerevan, an ally in the CSTO.
Erdogan is clearly not going to stop. On July 27, several columns of Turkish troops entered the territory of Azerbaijan to participate in joint exercises. They will last from July 29 to August 10 in several regions at once: in Baku (east), Kurdamir and Yevlakh (center), Nakhchivan (west) and Ganja (north-west, near the conflict zone)
- informs edition.
DSNews is confident that the conflict between Yerevan and Baku can harm the Turkish TANAP gas transmission project, thereby disrupting Ankara's transit ambitions as a "collector" of gas pipelines. Moreover, the culprit of the aggravation of the situation is the Prime Minister of Armenia Nikol Pashinyan, "who decided to check Russia for lice." Will Moscow "fit in" for Armenians in a crisis situation?
As expected, Putin "did not disappoint" - that is, let him down. When the crisis hit, Moscow limited itself to declarations. No more. Pashinyan received an excellent reason to expand the field for foreign policy maneuvers and direct his efforts to deepening ties with the West.
- consider in DSNews.
According to the publication, Erdogan is now trying to become a regional gendarme and reduce the risks for his energy plans. In turn, Pashinyan consolidates Armenians and increases the chances of Yerevan getting out of Moscow's tutelage by attracting the attention of Brussels and Washington. As for the United States, one of the presidential candidates, rapper Kanye West, is married to an Armenian, Kim Kardashian.
The one who loses is Moscow, since the Turks are pushing it out of the Eastern Mediterranean - away from Libya, and from Syria, and from Iran, and with a bite - from the Caucasus
- summarizes DSNews.