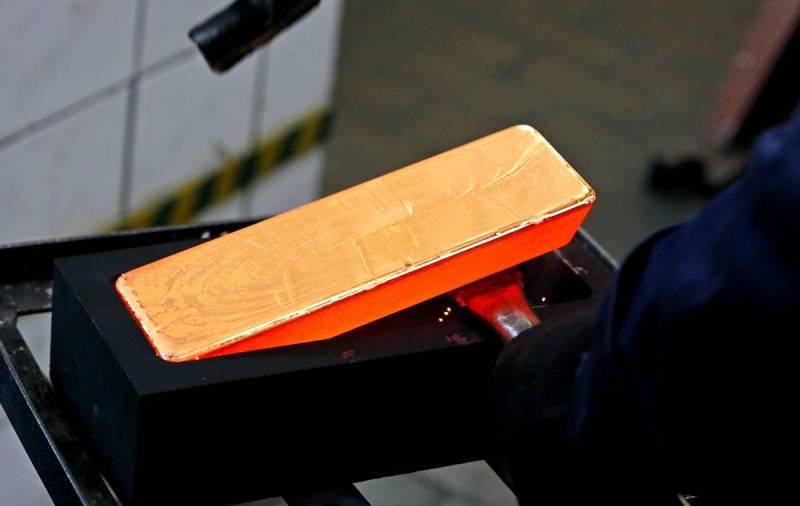 By the end of the second quarter of 2020, Moscow earned more money from exporting gold than from selling natural gas. This is a real sensation, since this has never happened in the entire history of modern Russia, writes the German newspaper Die Welt.
For the first quarter, Gazprom reported a significant decrease in profit. This was triggered by the COVID-19 pandemic, which has affected commodity markets. However, the report for the second quarter shows a real chaos on a planetary scale, as investors seek to save their savings in gold. Now gold is worth $ 1921 per ounce (about 30 grams).
In April-May 2020, Russia exported 65,4 tons of precious metal worth $ 3,6 billion (about € 3,1 billion). At the same time, the profit from gas exports amounted to $ 2,4 billion (about € 2,1 billion). There is no final data for the second quarter yet, but information from the Russian Central Bank indicates that gas exports brought the country $ 3,5 billion (€ 3,0 billion), i.e. turned out to be less than gold for the two months indicated.
Gazprom was really out of luck. The Russian ruble has depreciated, and most of the company's debt obligations must be fulfilled in foreign currency. Gas consumption and prices in Europe and China fell sharply, respectively, the company's turnover collapsed. For the first time since autumn 2015, Gazprom incurred losses. At the same time, experts from the investment company BCS Global Market Research believe that in the third quarter the position of Gazprom will be "terrible".
In turn, the oligarch Suleiman Kerimov, the main shareholder of Polyus-Zoloto (78,6% of shares), the largest gold producer in Russia, was very lucky. In the second quarter, his fortune grew by approximately $ 8,8 billion and reached $ 18,8 billion. In the Russian Forbes list, he jumped from 13th place to 7th, for the first time in 12 years hitting the top ten.
This was partially influenced by the actions of the Russian Central Bank, which stopped buying gold from April 1 and allowed direct export sales. It is not surprising that 80% of the precious metal ended up in London, where the largest trading and storage sites for physical gold are located. Gazprom can only dream of such a demand. But in any case, by the end of 2020, most likely, gas and oil will remain the main source of income for Russia, summed up the European media.