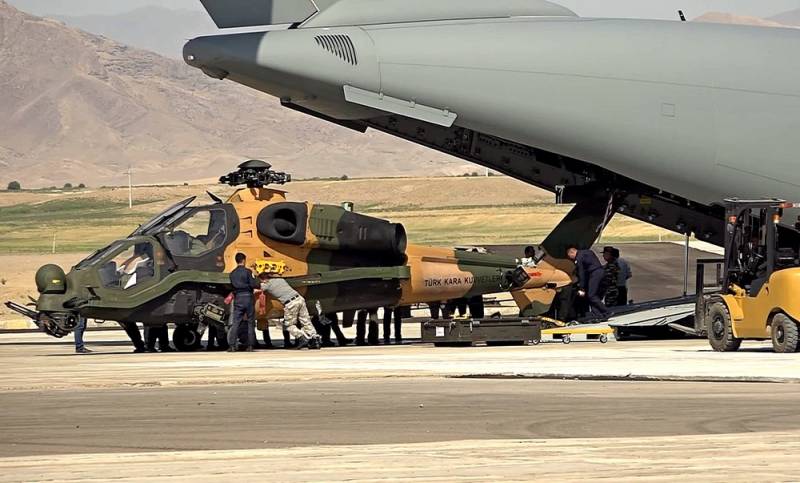 Against the background of the escalation of the armed conflict between Yerevan and Baku, Ankara is deploying T129 attack helicopters to Azerbaijan. This is reported by the Defense Blog resource.
A group of Turkish servicemen has arrived in the Azerbaijani autonomous region of Nakhichevan, participating in joint large-scale tactical and tactical flight exercises of the Azerbaijani and Turkish armed forces. Attack helicopters arriving by transport aircraft have been brought to a state of readiness for maneuvers.
During the solemn ceremony of meeting the military of the two countries at the airfield of the United Army, the state anthems of the Turkish and Azerbaijan Republics were performed.
According to the resource Army-technology.com, the T129 multipurpose helicopter was developed by AgustaWestland and Turkish Aerospace Industries (TAI) for the command of the Turkish ground forces as part of the program to create an attack tactical reconnaissance helicopter (ATAK). The T129 is based on the specifications of the AW129 as well as its predecessor, the A129 Mangusta.
The recent rise in tensions on the border between Armenia and Azerbaijan has been prompted by attempts by the Armenian army to attack Azerbaijani positions with artillery fire in the direction of the northwestern border region of Tovuz. The Armenian Armed Forces retreated after incurred losses as a result of retaliatory actions by the Azerbaijani military.