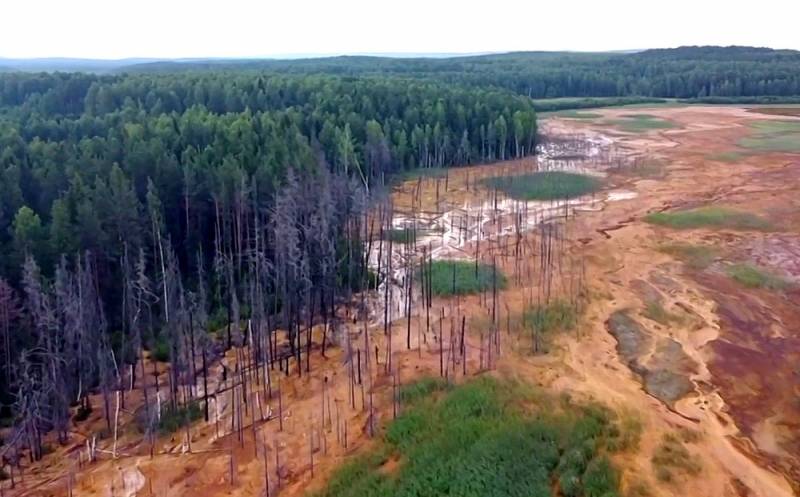 Russian authorities are investigating a toxic waste leak from the Levikhinsky mine in the Sverdlovsk region in the Urals, a mine that has been abandoned for sixteen years. Near the object is an ominous landscape with shades of red and yellow colors - traces of acid destruction of the surrounding area. This is reported by the Czech portal Aktualne.
The area eroded by chemicals is located on the outskirts of the 100-year-old Levikhinsky mine, 93 kilometers from Yekaterinburg and 35 kilometers from Nizhny Tagil. Copper ore was once mined in the mine.
In 1997, there was a flood here, and no one pumped out the water due to the high cost of electricity
- said local ecologist Andrey Volegov.
When the mine was operating, water was pumped out of the mine, but after its closure, this work stopped. However, the water horizon does not disappear, and water gradually rises to the surface through the rocks, reacting with them - as a result, acidic streams containing heavy metals corrode everything in their path. Usually toxic streams flow into the nearby Tagil River, causing fish to die.
Another source of pollution is precipitation. After extracting the necessary metals, the rock was piled directly under the open sky. And now the rains are flowing over the dumps formed as a result of ore processing - poisonous streams leave behind a scorched territory.
Recently, the attention of the whole world has been focused on the Arctic regions of the northern part of Russia, where about 21000 tons of fuel oil seeped into the bowels and rivers during an accident at a power plant and heating plant in Norilsk - this provoked a real environmental disaster in the region.