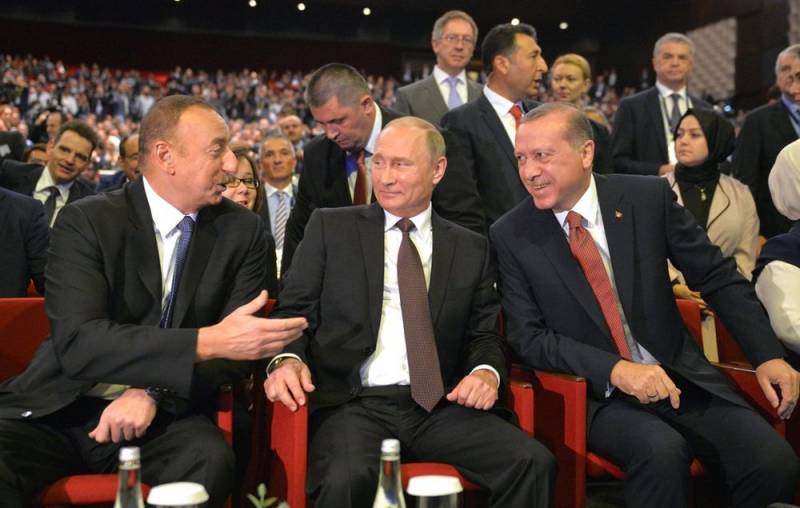 Turkish President Recep Tayyip Erdogan, transforming the Hagia Sophia into a mosque in Istanbul, hoped to raise a powerful wave of nationalism in the country, which was supposed to show support for his chosen course. However, this did not happen, and the Turkish leader decided to get involved in an adventure in the Caucasus, writes the American edition of Al Monitor.
Experts note that Erdogan has always been a harsh and emotional politician. Therefore, his recent statements in support of Baku, against the backdrop of the outbreak of the next Armenian-Azerbaijani crisis, were for the most part made "for internal use." At the same time, Ankara is trying to influence Moscow to make concessions in Libya and Syria.
Erdogan's interference in the issues of Libya and Syria also serves his domestic political interests. But they pale against the background of Armenia and Azerbaijan, which really hurt the feelings of the residents of Turkey. There is an ethnic kinship between Turks and Azerbaijanis. While the Turks have a serious enmity with the Armenians. Therefore, any issue of the Armenian-Azerbaijani relations arouses genuine interest in Turkey.
Naturally, there can be no question of sending Turkish troops to participate in the Armenian-Azerbaijani conflict in Nagorno-Karabakh. Everything will be limited to diplomatic and
political
statements of varying loudness. Turkey's attack on Armenia may end in an extremely harsh reaction from the United States, where a large Armenian diaspora lives. Russia will not be silent either, since Yerevan is part of the CSTO and there is a Russian military base on the territory of Armenia.
In fact, Ankara decided to verbally challenge Moscow's right to patronize the Caucasus region. Erdogan may have forgotten how quickly Russia dealt with Georgia in 2008. Then the adventure of the Georgian leadership, which decided to attack South Ossetia, ended in disaster for Tbilisi. It was a lightning defeat, which only on the whim of the Russians did not lead to a change in political power in Georgia.
At the same time, Azerbaijan still maintains good relations with Russia and no changes are expected in this matter. The Azerbaijani diaspora in Moscow is very influential. Therefore, Russia will undoubtedly retain its position of "elder brother" in the Armenian-Azerbaijani clarification of relations.